Promenades
Ayia Napa is a tourist centre, and there are certainly a lot of places to walk. Everything is arranged to make tourists feel comfortable and enjoy the vacation. For example, there's a long waterfront promenade with all necessary facilities that starts from the port and reaches the famous Nissi Beach considered the best beach in Cyprus.
Evening walk along the promenade
As for the Ayia Napa port, it's not very convenient to walk there, as many walkways are closed. The port is of interest due to a large number of diverse watercrafts, among which there are olde worlde and cartoon ones. Such cutters are used for sea walks that are abundant and popular here. Tourists are invited to visit Cape Greco, sea caves, Blue Lagoon, etc.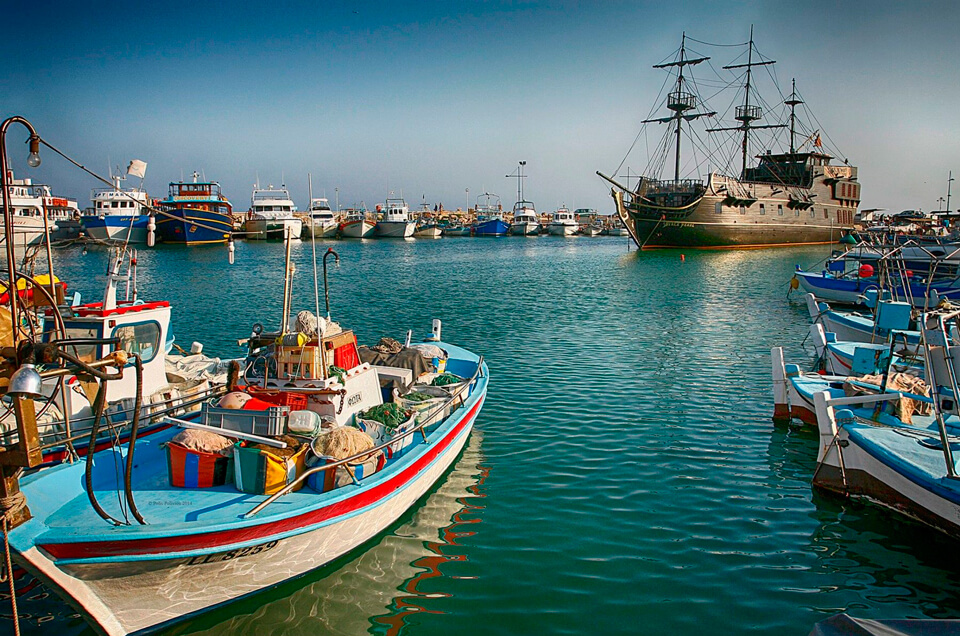 A large open-air Sculpture Park can be found near the port. The place is impressive, especially, when you see it for the first time. The park is divided along the slope and has several levels. The natural views from each of the "storeys" are just stunning! There are a lot of sculptures here – from ultra-modern installations to ancient statues.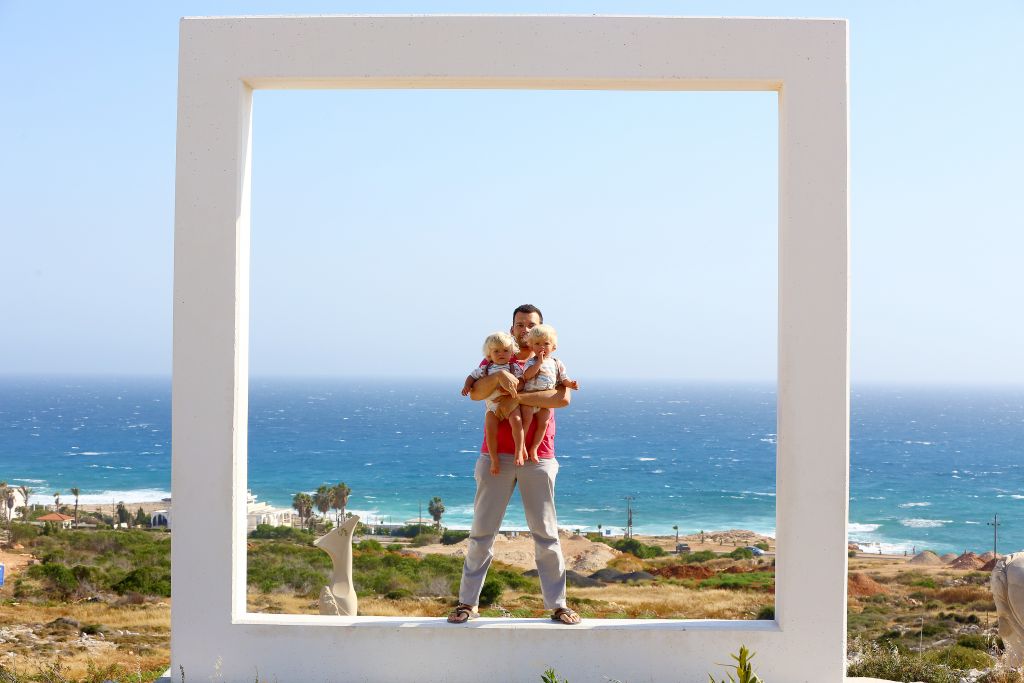 The apparent inconvenience hindering the walks with babies is gravel roads, because it's really hard to push a pram on gravel, as the wheels get stuck. What's more, it's better to stay away from the place in the day time when it's hot. There's nothing to protect the visitors from the burning sun.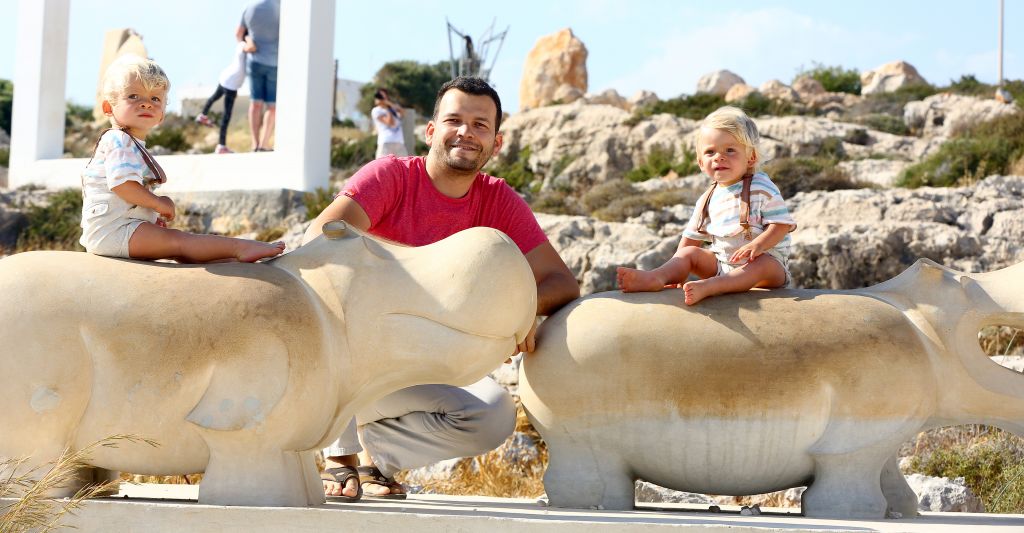 Michael Jr. and Robert evaluate contemporary art in their own way
The Love Bridge and Local Jurassic Park
Close to the port and Sculpture Park, there's a unique natural object created without human participation. It's a rock in the form of an arch or rather a bridge descending to the sea. It's one of Ayia Napa's symbols – the world-renowned Love Bridge, a place shrouded in numerous legends and superstitious beliefs. For example, they say if you ascend the bridge with your lover and make a wish together (while kissing of course), it will definitely come true.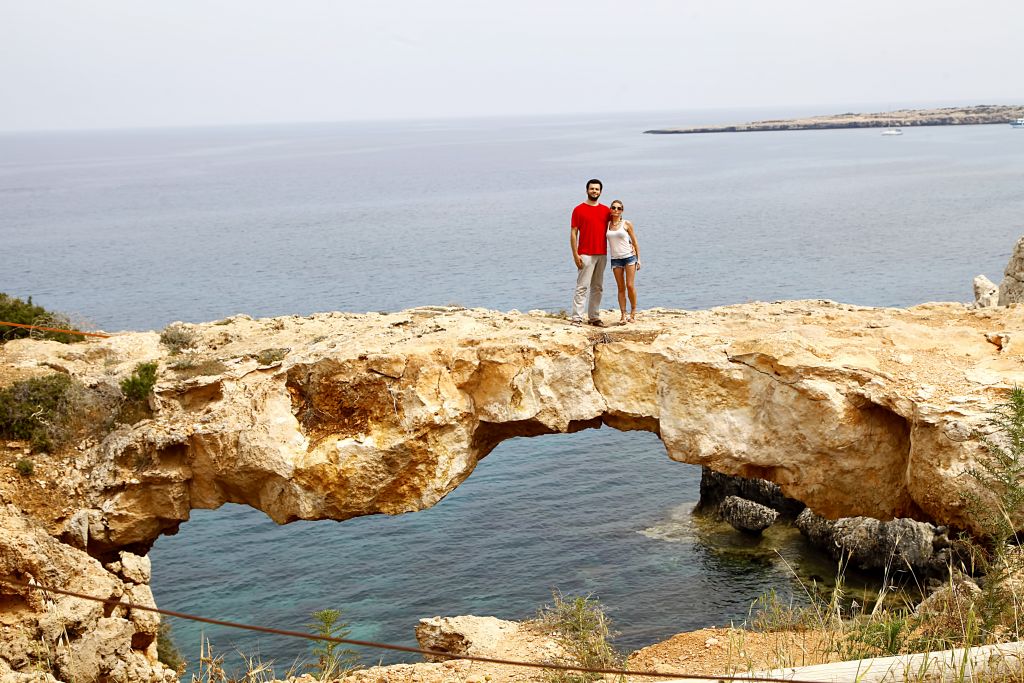 It's incredibly beautiful here. A quaint natural arch and an ultramarine sea leave an indelible impression. If you wish, you can go down to the water over the bridge and have a swim. However, it's dangerous to dive into the water straight from the bridge, as its rocky foundation consists of fairly sharp rocks. You can also come across some rocks on the sea bed around the area.
We couldn't resist the temptation as well and decided to make a series of family photos in the place once. For the sake of impressive photos, Michael Sr took the boys and climbed onto the very top of the bridge. Helen was taking pictures, hardly controlling her anxiety. The waves were surging, the wind was strong. In a word, it was a real adventure! Michael Jr and Robert couldn't get enough of it!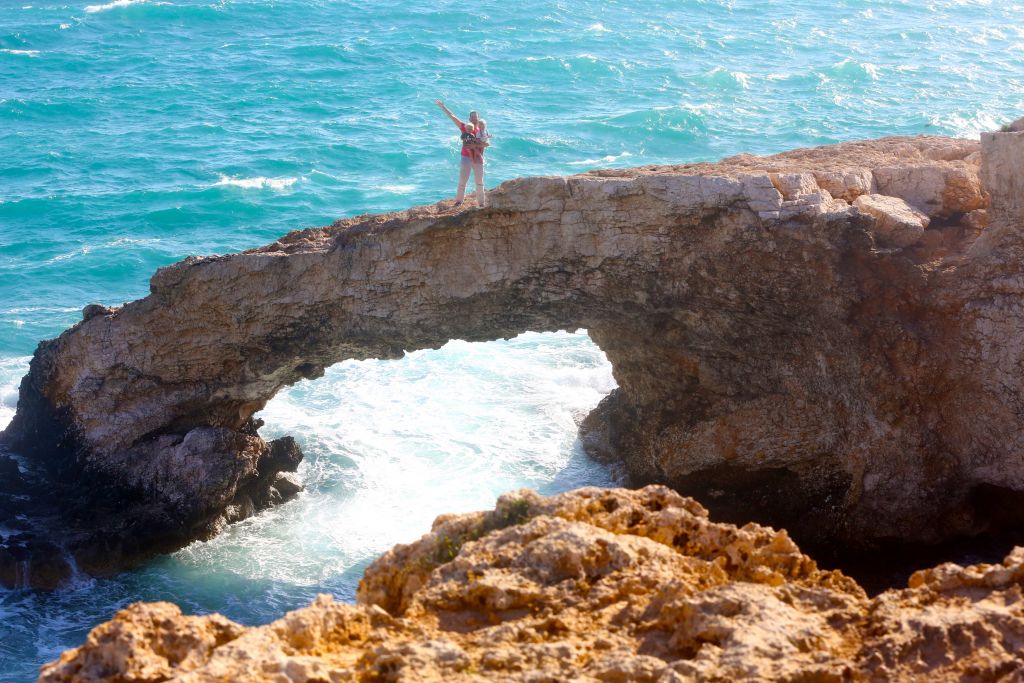 Another thrilling place for children and adults is the Luna Park on Nissi Avenue. There's a great variety of modern amusement rides, karts, and trampolines. A lot of cafes and restaurants are scattered around. So, it's a perfect place for family rest.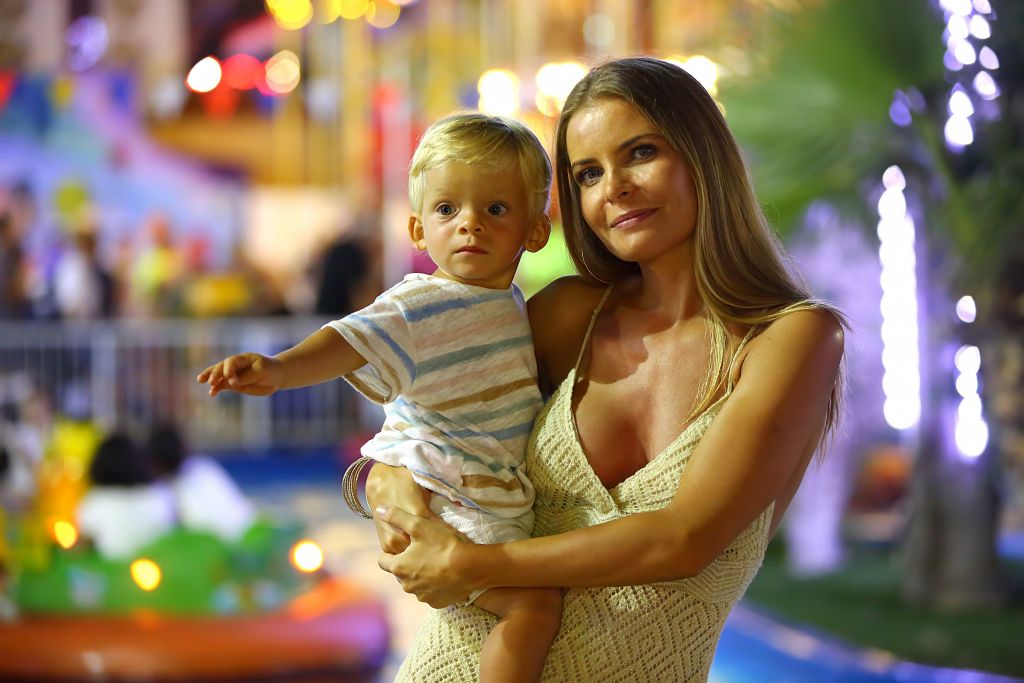 The park appeals not only to tourists, but also Cypriots themselves, who come here with their families and spend the whole day here. It's a kind of a Cypriot Disneyland.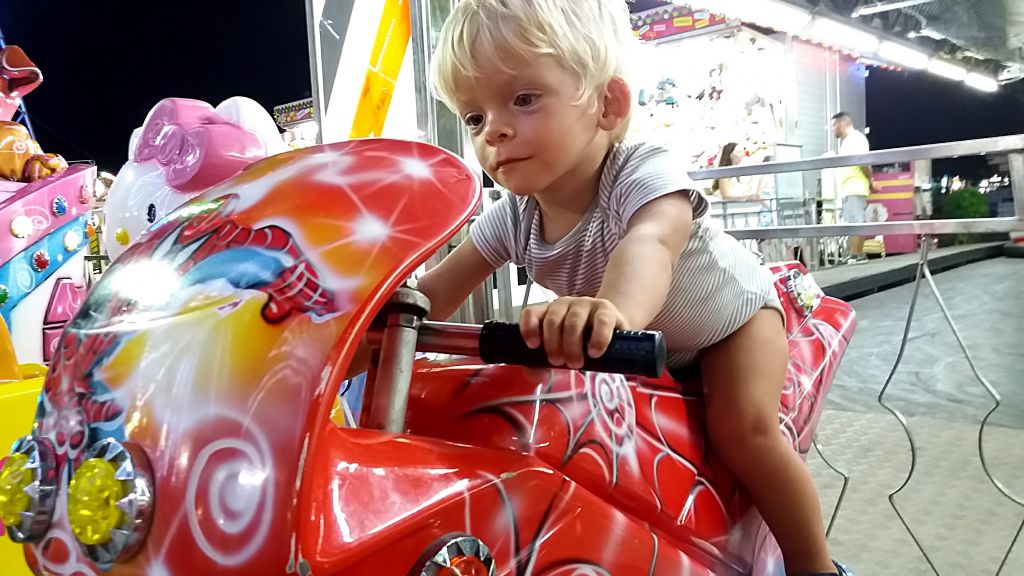 We visited the place with our boys, when they were infants, so we didn't spend much time in the park and tried only a small number of rides. Yet it was enough to get new bright impressions and take a lot of nice photos.
There's one more place near the Luna Park. It's a park where gigantic dinosaurs live. They move smoothly, look frightening and roar deafeningly, as if they were real. There's also a special playground, where young archaeologists can find and dig out something interesting and mysterious – for example, a couple of T. rex bones and teeth.
Pirate Caves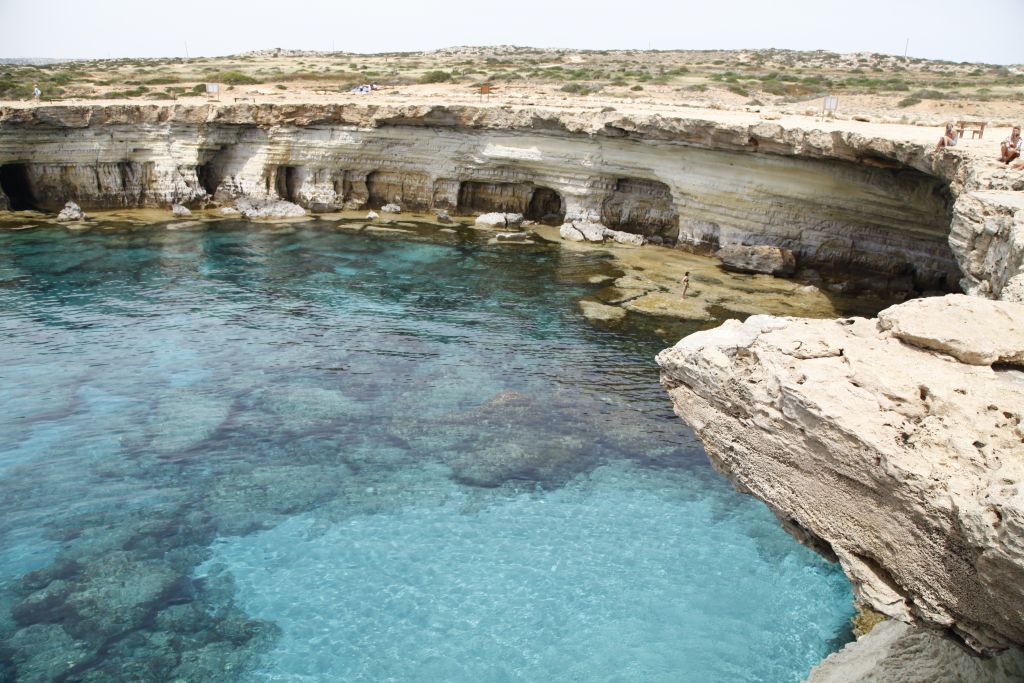 Natural caves in the rocks by the sea are beautiful and romantic. This place on the Ayia Napa coast is shrouded in mysteries and legends. According to legend, pirates used to hide their stolen treasures in the caves. Now tourists from all over the world come here to walk around and have a swim. The place also attracts extreme sport and thrill lovers. You can dive into transparent sea waves from the ground that is 8 metres (26 feet) above the caves. You will definitely experience a bunch of unforgettable exciting emotions!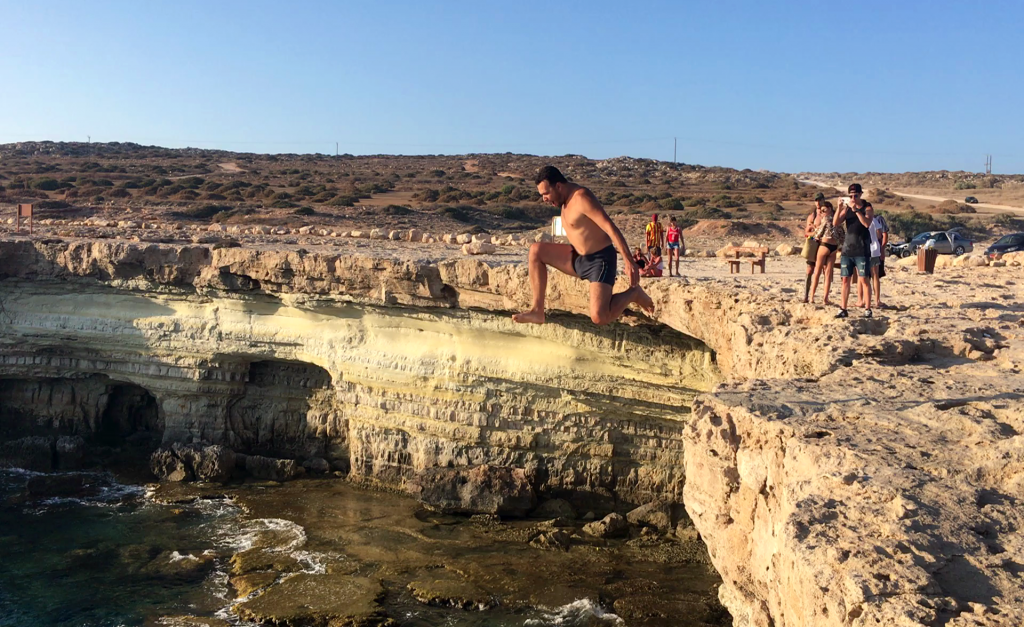 You can spot a ship beside the caves, which resembles the Black Pearl from Pirates of the Caribbean. Captain Barbossa receives guests on deck kindly and rides people around the sea on the yacht.
Port, Tavern, and Chapel
We loved Isaac Tavern, a cosy place with a wonderful fish menu. We especially liked its fish meze – a combination of great taste and variety. We were treated to a great number of dishes from fish and seafood. The size of the dishes is small, which is comfortable to get acquainted with the restaurant's menu and stay alive after overeating. Each of us was brought a huge fish, two shrimps, a slice of octopus, as well as squids, sauces, and various appetizers… On the whole we tried about dozen different dishes.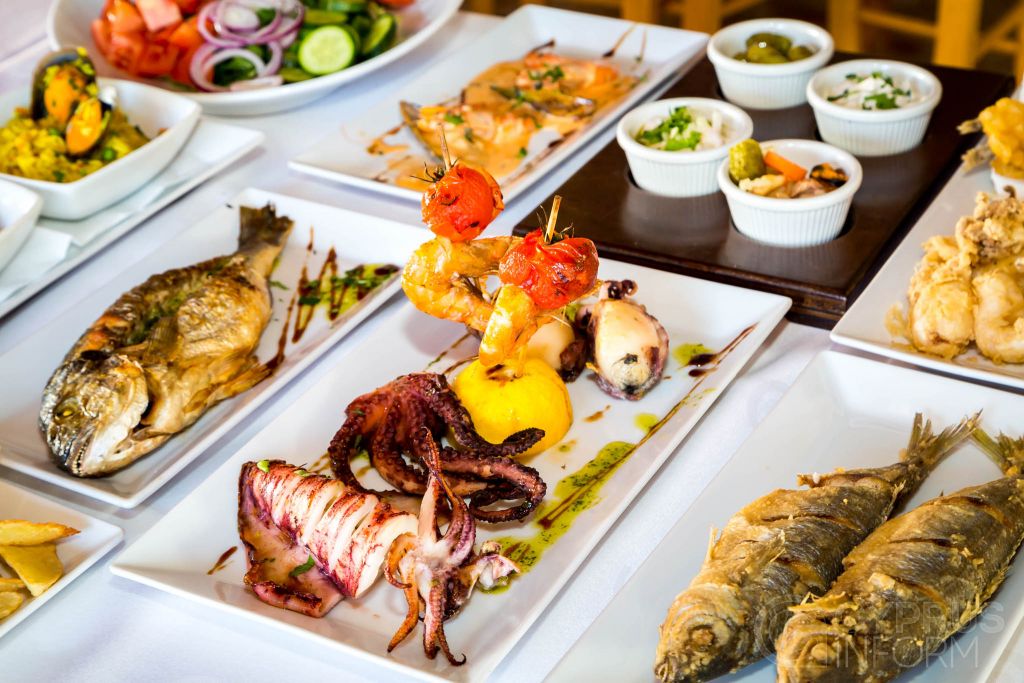 Isaac Tavern not only offers delicious and diverse dishes, but also stands out from other eateries due to its location. It's located near the Ayia Napa port, and right beside it, there's a stunning St George's Chapel. Furthermore, it surely has a view of the sea.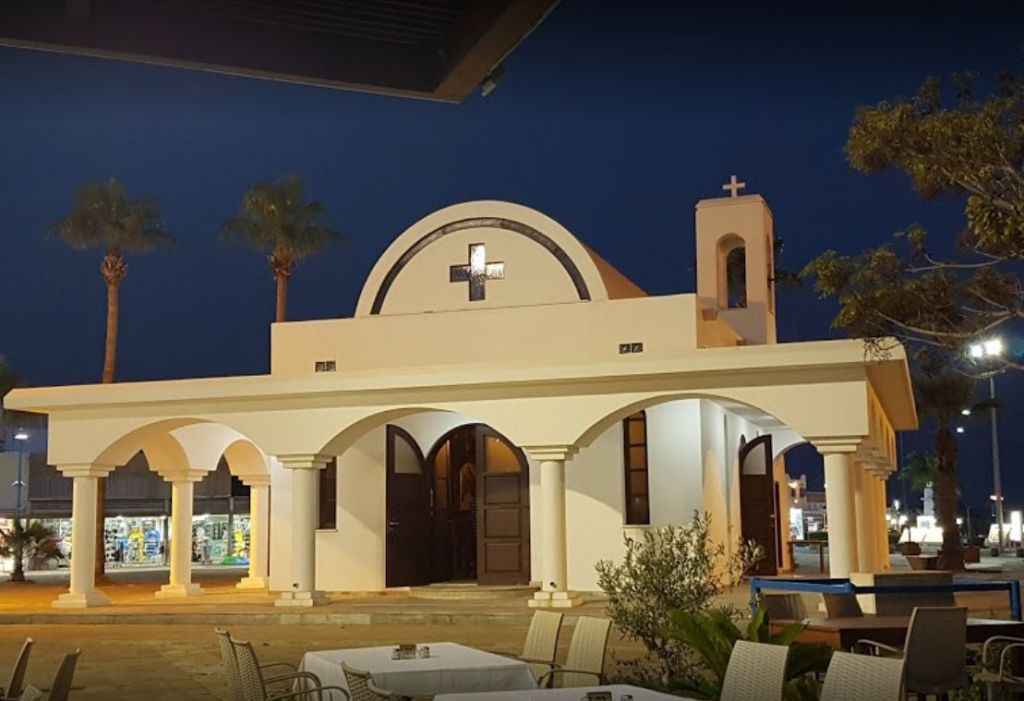 In the chapel of St. George before a evening walk in Ayia Napa
To be continued…
Beaches, a chapel in the rock and a white church on the shore – Ayia Napa. Part 1
Club quarter, elite restaurants and an old monastery – Ayia-Napa. Part 3