Vienna from a Height: St. Stephen's Cathedral and Donauturm
Vienna is a very festive and elegant city. There's a key difference between Vienna and Saint Petersburg that also impresses thousands of people with its beauty and grandeur. When you are walking around Saint Petersburg getting amazed at the luxury of the buildings on central streets, then, finding yourself on neighbouring streets, you suddenly realize that all the luxury has gone away and an ordinary residential area is surrounding you, which is not as beautiful and well-kept. Vienna is different. It's incredibly clean, and all the streets and quarters, even small alleys are in perfect condition. You can come across old houses all over the city.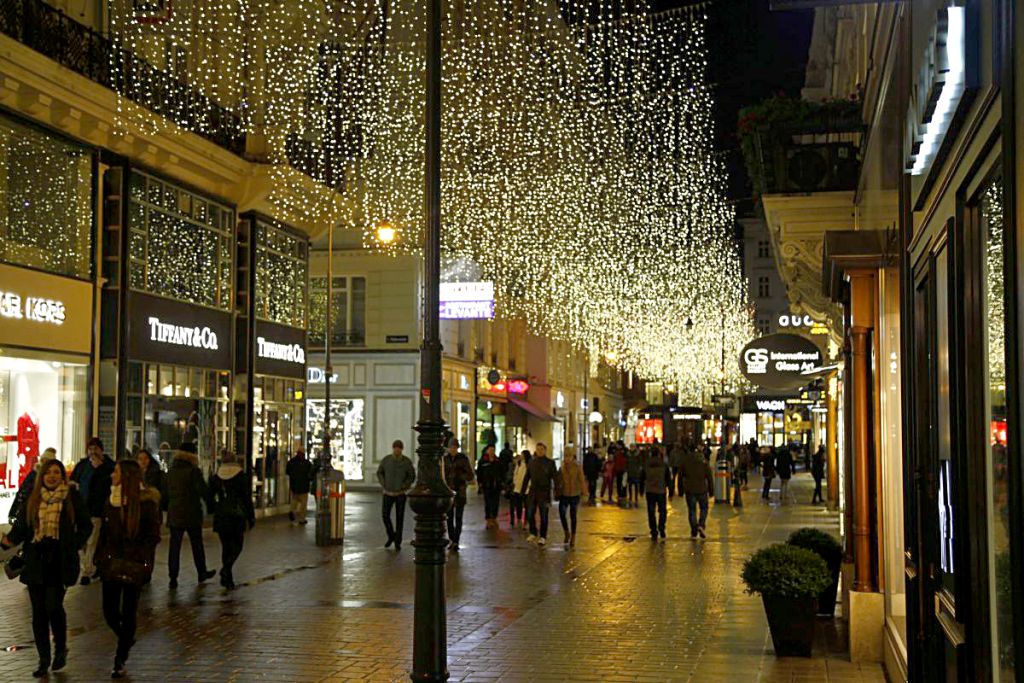 One of the tourist symbols of Vienna is carriages. There are ones in all central squares of the city. It's usually a harness with two horses called a fiacre. However, there are also carriages with 4 or even 6 horses. A tour around central Vienna in the carriage driven by an experienced coachman (many of whom also act as tour guides) is a very interesting and nice experience for city visitors.
We had an opportunity to show horses to our children. Each time the boys were near the carriage they watched the horses carefully and seemed very interested in studying their behaviour. They were not even afraid to touch such big animals.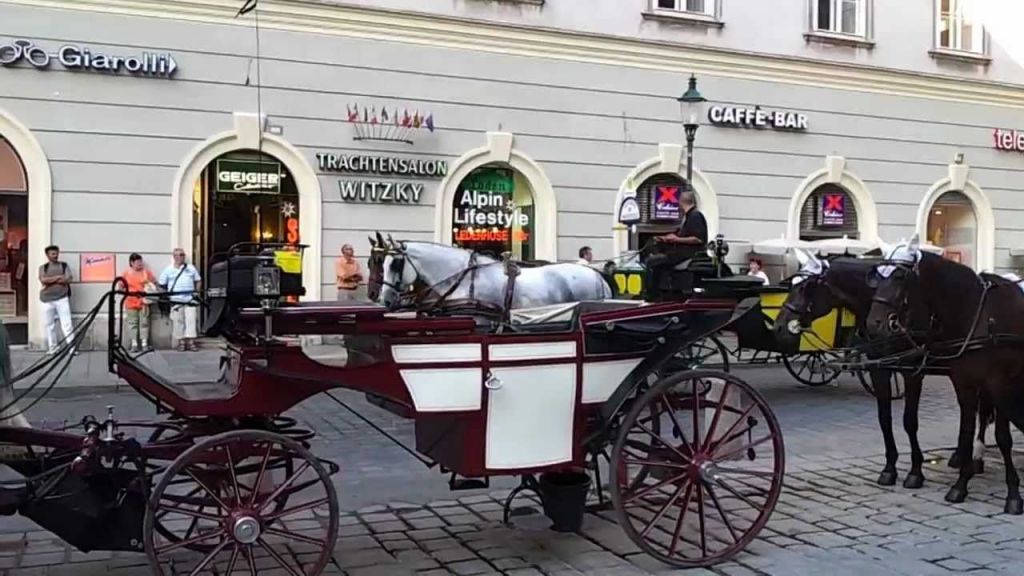 While staying in Vienna, we were able to show our sons something they had never seen in Cyprus – huge Gothic churches.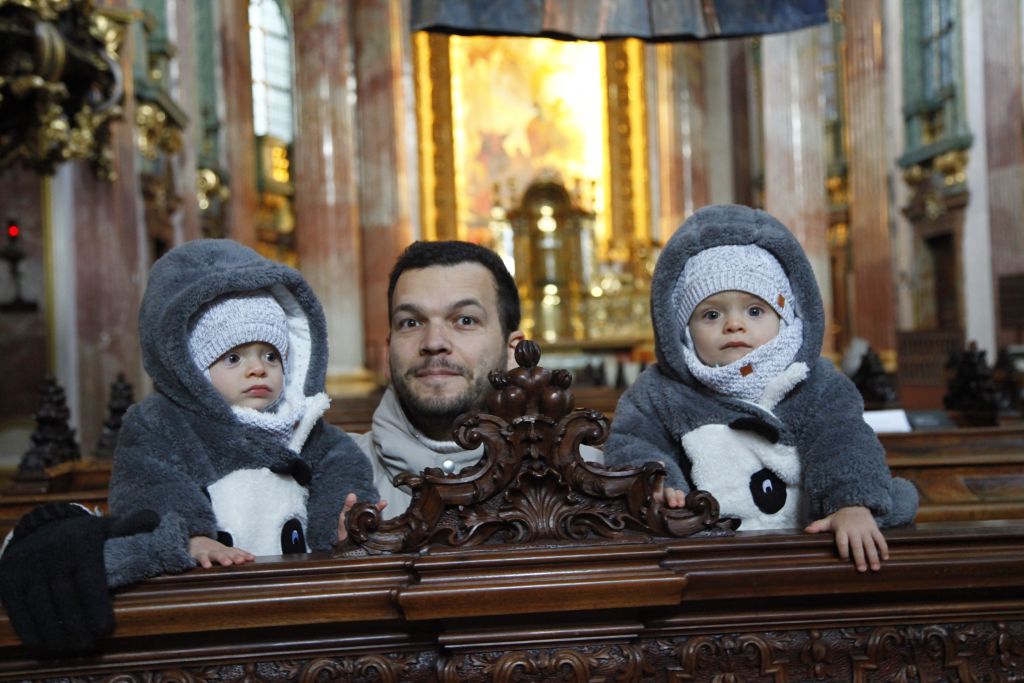 One of the major and most renowned landmarks in Vienna is St. Stephen's Cathedral. The stupendous Gothic building with a main tower that is 130 metres high rises proudly above the multimillion city and is its symbol.
The cathedral is magnificent and looks a bit ghastly overwhelming with its grandeur and majesty. Such a menacing and sublime appearance is characteristic of almost all Gothic churches, though, many of which are not just cultural sites, but also tombs for hundreds or even thousands of people.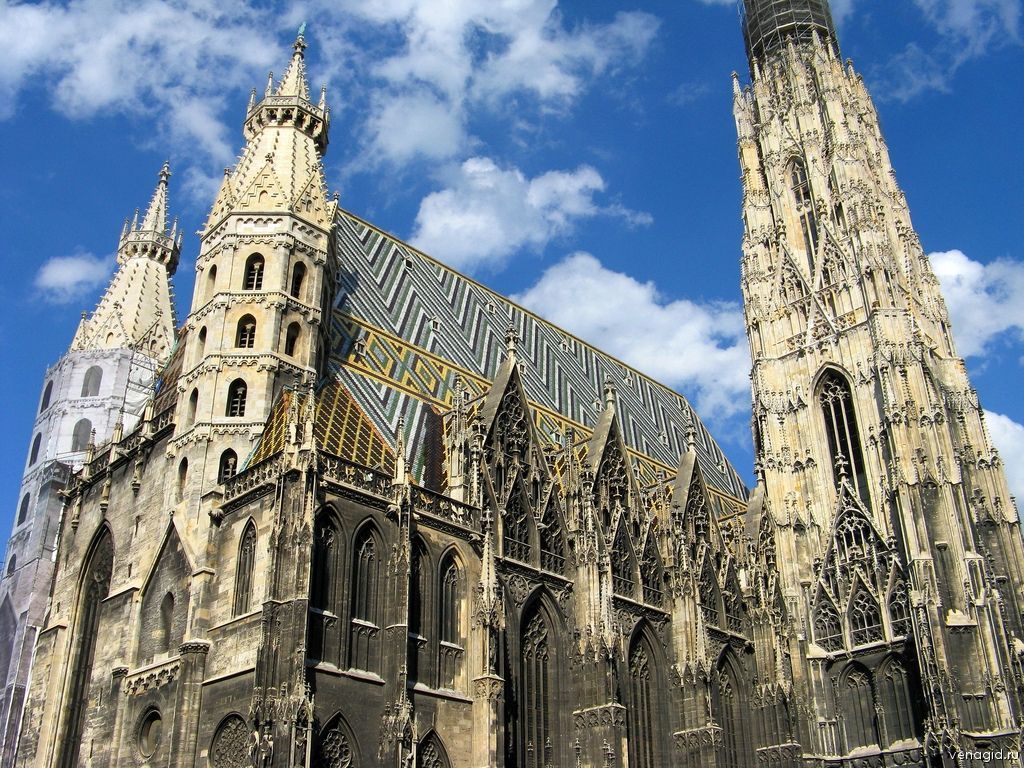 Like many other similar buildings, St. Stephen's Cathedral was built in several stages – towers, gates, and outbuildings were gradually added which lasted for several centuries. The cathedral survived a couple of serious fires, after which it was necessary to rebuild certain parts and walls. So the cathedral that was founded in the 12 century was finished only in the 18 century.
In 1945, when the Second World War was coming to an end, the cathedral was lucky to avoid the deliberate demolition by the retreating German army. However, there was a blaze that same year that destroyed a part of the roof, the main bell tower, and the pipe organ.
When the war was over, a lot of effort was made to restore the major landmark and relic of Vienna, and after a couple of years the cathedral having many centuries of history was open for visitors again. Services started to be held there again as well.
We dedicated one of the days to going to the Donauturm, the tallest construction in Vienna.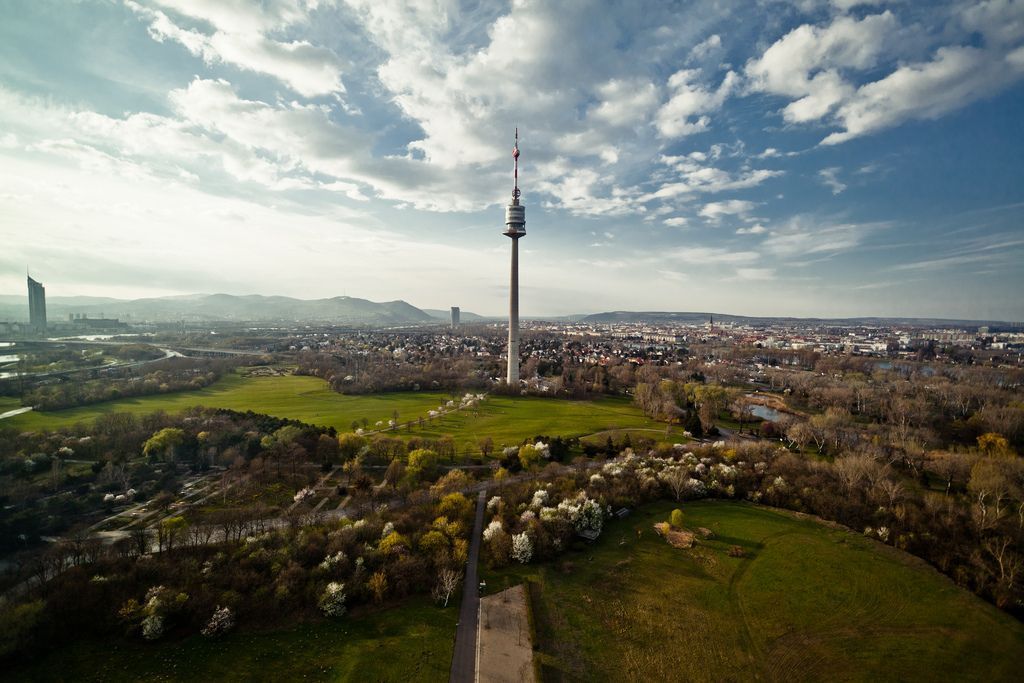 The tower is located on the river bank. There's a large Donaupark near it. We reached the top of it by lift and savoured the view. You can see half of the city spread out below you. Although it's very chilly there in winter, and the bitter wind's blowing, it was definitely worth it.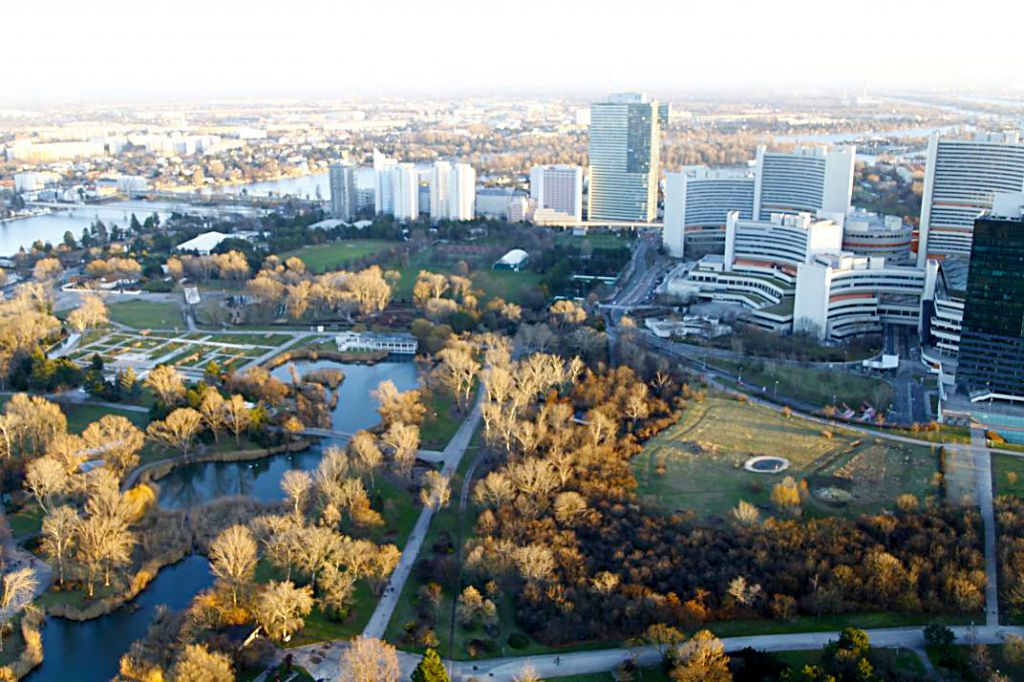 By the way, there are two restaurants on rotating platforms in the tower. It's extremely interesting, so we recommend visiting them.
Vienna's Restaurants and Naschmarkt
One of the most renowned cafes in Vienna is the Sacher coffee house where you can taste the famous cake named Sachertorte first-hand. The cake is a traditional dessert of Viennese cuisine and one of the most popular cakes in the world. It's a chocolate cake served with whipped cream. The cafe is situated right behind the Vienna State Opera, in the Hotel Sacher. The cafe has a classic design. But most of all, we were startled by extremely long queues in the cafe. They are so huge that sometimes people even stand outside in the freezing cold for over an hour. It's not possible to book a table in advance.
We didn't even try to get there, as it would be sheer torture for our children to stand out in the cold in a queue for so long even to taste a very delicious cake.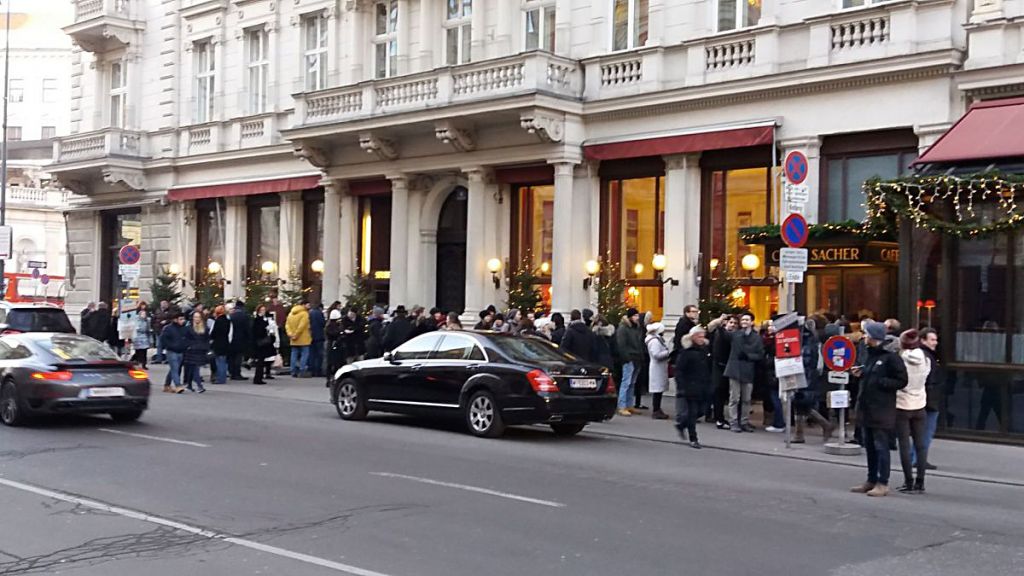 We liked Trzesniewski, a very curious Viennese fast-food cafe. Small two-bite sandwiches with various fillings are served here. By the way, these places (there are 9 or 10 of them in Vienna) can hardly be called fast-food restaurants, because they offer very sophisticated and varied flavours – from gourmet French cheese and herbes de Provence to rather fatty paste and vegetable salad. There's a great variety of such snacks, and due to their small size, you can easily try lots of different flavours in one meal without overeating.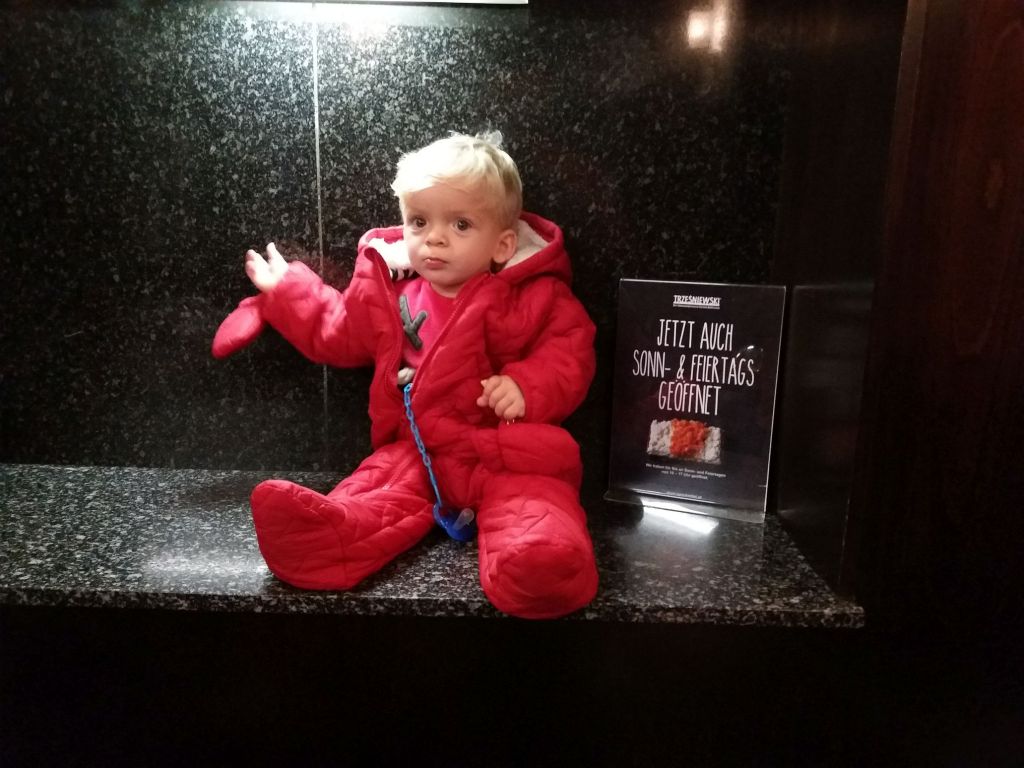 The Naschmarkt is one of Vienna's landmarks that is always interesting not only to tourists but also to the locals. Roughly speaking, it's a central market where apart from common rows of stalls with vegetables, fruit, meat, utensils, and souvenirs, lots of different restaurants are concentrated. Here you can taste the dishes from almost any cuisine – Austrian, German, Indian, Japanese, Italian, Mexican, Chinese, etc. There's a great number of interesting ethnic restaurants.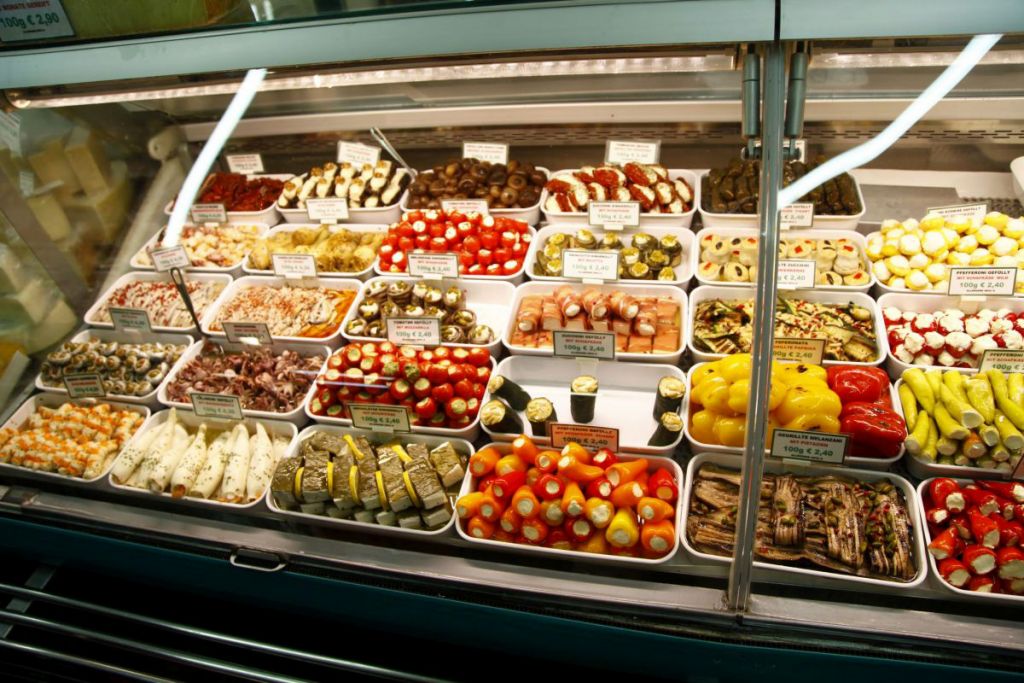 As for Chinese cuisine, we dropped into one of the Chinese cafes and were very surprised to find there no Austrians but only the Chinese! Which made us think that if the Chinese prefer to eat there, the food must be not Chinese-like, but real, traditional. And we really didn't see anything similar to the European Chinese cuisine there. Everything was unique and tasty in its own way.
We liked the concept of the Italian restaurant called Vapiano. It has an interesting self-service system. No one brings the dishes you choose to your table. Instead of that you can watch how they are being prepared right in front of you. The restaurant is divided into several areas each of which has several chefs responsible for cooking certain kinds of food – soup, pasta, salad, desserts, etc. Cooks are in the kitchens separated from the hall, where visitors sit, with glass walls, so you can watch how the chosen dish is prepared from start to finish. Even spaghetti for pasta are being cooked right here in front of you. Everything is very fresh and delicious, and the taste of the food prepared before you is completely different from when ready dishes are brought to your table from the kitchen. The cooking process is truly impressive. Steam, smoke, fire, everything's being cooked, roasted, steamed by fast and skilful cooks. It's gripping to watch it, and the children were just thrilled.
At one of the Vapiano restaurants
Speaking about restaurants, we can't help mentioning one occasion that deeply impressed us. While walking around the Naschmarkt one day, we thought that it was time to rest a bit and have a snack. We were tired and hungry and noticed a restaurant with a beautiful facade and design. Before entering it, we decided to read reviews on TripAdvisor and were stunned. We had never seen such a large number of negative reviews on any eatery – there were about four hundred of them! People wrote about terrible service and how some additional dishes and charges appear in the bill. And when the visitors try to object, the managers start threatening to call the police. We were glad that we had read the reviews and were aware of it. Passing by, we were surely curious to find out how "the most awful restaurant in Vienna" looked like inside, so we dropped in. Nothing really extraordinary. Nevertheless, we would recommend all travellers to read the reviews about the cafes and restaurants before visiting them.
Our New Year's Celebration
On New Year's Eve, we left our babies sleeping at home with the babysitter and went walking to the City Hall Square.
Vienna City Hall is one of the most beautiful and recognizable buildings in Europe. Its neo-Gothic style with pointed towers and stunningly decorated arches makes the city hall look like a fabulously beautiful palace.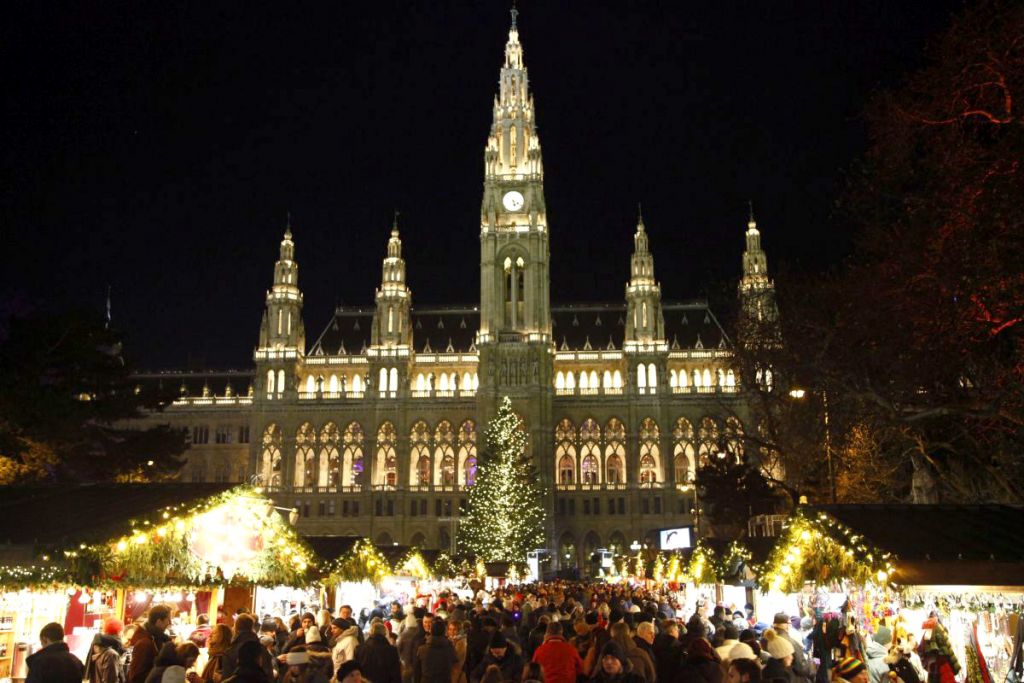 The way the City Hall and City Hall Square are decorated before Christmas is worthy of a special mention. The building itself and its huge towers (the central tower is almost a hundred metres high) are illuminated with different colours. All the trees around are decorated with bright garlands. The whole area is just dazzling from late November to mid-January. It's the heart of Vienna and a must-see when you are in the city.
That day the square was full of people of different nationalities. Almost all of them were walking with champagne sold in plastic glasses. Everyone was drinking, but there were no totally drunk people, no fights, and nothing negative. Everyone was cheerful and in a great mood.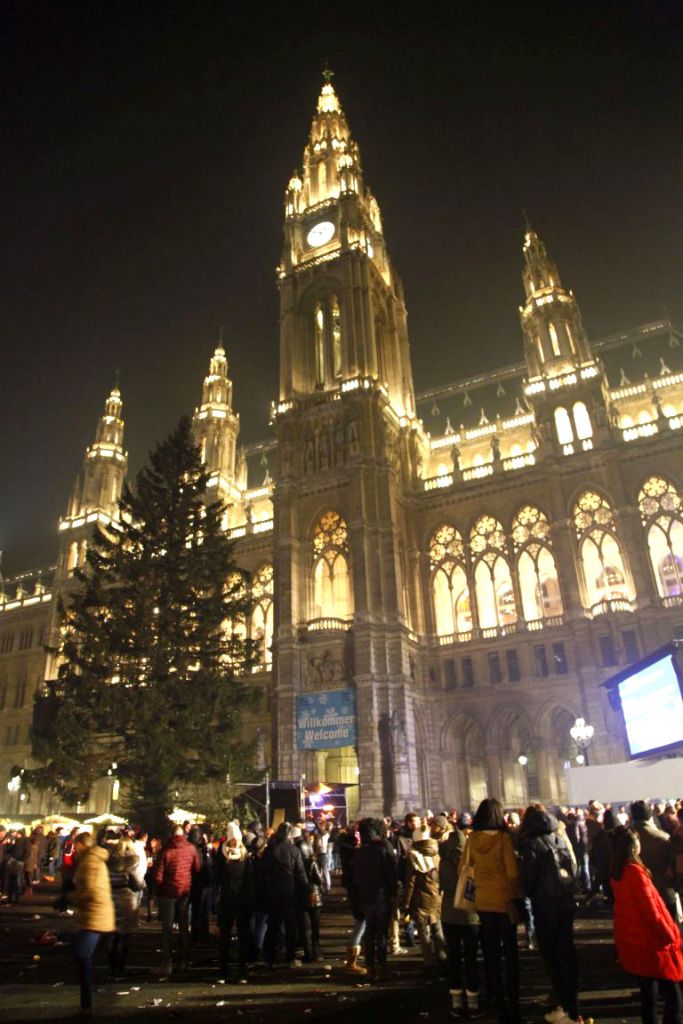 Several music grounds situated in the city centre also contributed to the incredibly festive mood. There were around a dozen of them, and live music of a certain genre – jazz, Latin music, classical waltzes, retro, and so on – was performed on each of them.
As for the City Hall Square, its decorations were slightly changed after Christmas, that is replaced by the New Year ones.
In the centre of Vienna, people begin celebrating the New Year's Eve after lunch from around 3 pm. The festive city programme – concerts, contests, performances – commences on the streets at the same time. There are schedules hanging around the city, so you can plan your time and manage to visit some show or concert.
The atmosphere is festive, jolly, and also somehow cosy. The climax of the celebrations and fun is stupendous fireworks lasting for several minutes.