Fertile Cyprus vs Arid Cyprus
The central part of Cyprus is covered with mountain ranges. The mountains are relatively low here. They have gentle slopes and are covered in coniferous forests. Between the mountains, in the hollows, there are picturesque valleys that are always full of fresh juicy grass and flowers. It's summer here even in winter when the tops of mountains get covered with snow. And in summer, while it's insanely sultry in coastal regions, it's invariably fresh and cool here.
Marathasa and Solea valleys are famous for their fertility. There are a lot of agricultural lands and villages with blossoming, fragrant, and fruitful gardens. These regions have a lot of water, as the snow from the Troodos Mountains, starting to melt in spring, flows down like an avalanche to the valleys forming full-blown rivers and waterfalls. Some of the rivers, e.g. the Kryos Potamos, Klarios, never stop and don't become shallow the whole year through. It's a totally fantastic thing for Cyprus where everything dries up in summer and water is really precious.
Yet even in this paradise place, the water from rivers utilized for irrigation is used very carefully according to a certain schedule. Over the last 20 years, the climate has been gradually changing in the world, and Cyprus is not an exception. Rivers are getting shallower and scarcer. Thus, although the water from nearby rivers is supplied to their lands, farmers, farmworkers, owners of croplands and gardens open the damper and let refreshing irrigation moisture in for several hours a couple of times a week only.
Water is an extremely valuable resource for Cyprus due to its arid climate. While mountain areas provide fertile ground for grape, cherry, apple, orange, tangerine trees and various vegetables, the choice of fructiferous plants for successful cultivation decreases dramatically closer to the coast.
Potato grows well here. Olive trees take roots here quickly as well, and they perhaps deserve a special mention.
Olive Island
In Cyprus, olives are cultivated and picked in great amounts. They say olives need to be irrigated only in the months containing R, that is January, February, March, April, and then September, October, November, December. So, they don't require regular watering in summer. Olive trees are fairly low-maintenance – they need just several weeks of cool humid weather without drought to set fruits.
Olives are harvested annually, and it's a laborious activity. The harvested fruits are squeezed to get aromatic olive oil sufficient for the whole family to use the whole year through. Many Cypriots tend a few dozen personal trees – cut, water, fertilize, and then pick olives. Olives are pickled and used for making oil. The excess is sold. Olives are a good source of additional income for many Cypriots living in the area, especially if there are a lot of olive trees growing on their fields.
Farm Cyprus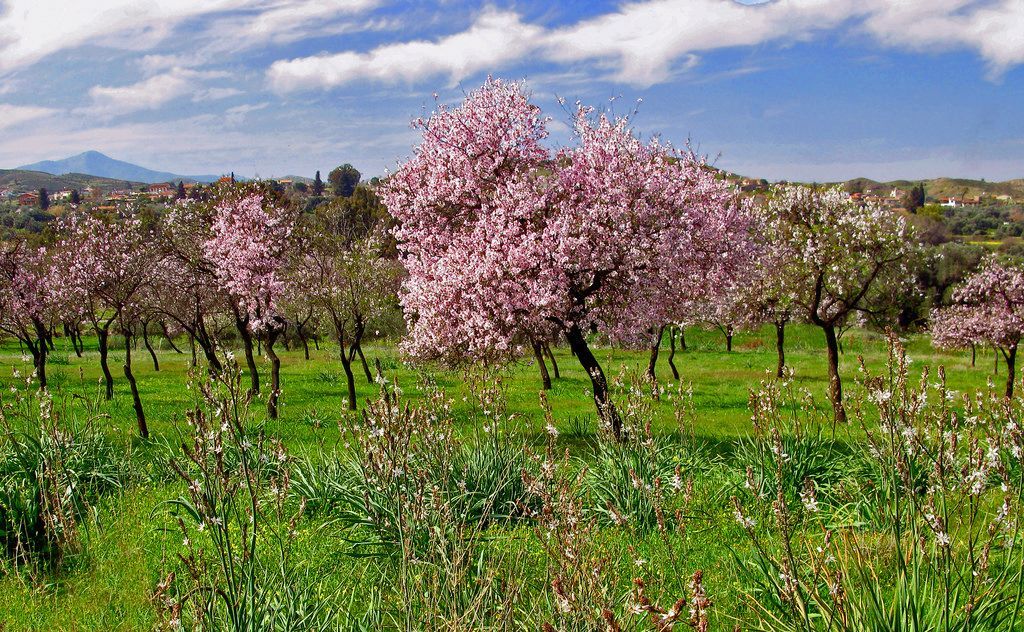 It's very beautiful here in spring when trees are in bloom. Plum, apricot, cherry, and almond are blossoming. There are clouds of scented flowers, and the mountain air around is so clean and fresh, it makes you feel slightly dizzy.
When fruits are ripe and ready for harvest, people passing by in cars can stop by, pay several euros, and pluck as many of what is being picked as you want – apples, cherries, sweet cherries… The apples grown in Cypriot mountain valleys are strikingly delicious, especially in Prodromos.
By the way, there's a legendary place not far from Prodromos that is a must-see for those who are captivated by mystical things. It's an abandoned Berengaria Hotel shrouded in legends. It was very popular in the first half of the 20th century. Such famous people as Winston Churchill, Duke of Marlborough, King Farouk of Egypt used to stay here. Even royals and presidents came here.
When the first hotel owner died, his heirs – three brothers – failed to share the money and quarrelled. The hotel stopped to develop, and its popularity started to decline, which was later followed by a series of unexplained deaths. First, all three brothers passed away. After that, Berengaria ceased to exist. A few years after, it was planned to be restored, but works never actually commenced due to the demise of an architect who was developing a reconstruction plan. They say the ghosts of brothers are to blame. They hinder the renewal of the hotel operation in every possible way and wander along the empty halls at night continuing to argue with one another in whispers. Thus, the once prosperous Berengaria is now a grim half-destroyed building and one of the numerous mystical Cypriot landmarks…
But let's return from otherworldly phenomena to real life and meat and potatoes of our story – blossoming Troodos.
Since water is scarce even here, some fruit crops are cultivated through grafting. For example, plums that require a lot of water for development are grown like this: a low-maintenance almond is planted, and once it's grown a little, a plum twig is grafted on it. So, the almond roots and truck, which need much less watering, feed the plum graft. As a result, juicy fragrant plum fruits ripen all over the almond tree.
The same gimmick is applied to watermelon cultivation. A pumpkin, which doesn't need much water, is planted, and then a watermelon is grafted on it.
You can often come across the trees with oranges from one side and lemons or tangerines from the other. The trees from one family can easily be used for such experiments. Moreover, this selective breeding is common practice in Cyprus.
The daily routine of the Cypriots living far from big cities and resort coastal villages significantly differs from the lifestyle of those who live in the cities or nearby areas. In villages and valleys, situated away from the city hustle and bustle, people are primarily concentrated on farming. There are a lot of garden farms – land lots far from residential districts planted with fruit trees.
Tending orange and lemon gardens and groves takes a lot of effort and hard work. Such trees need to be looked after and sprinkled constantly, and harvest is not a piece of cake either. The way of life of the Cypriots living here is arranged so that it involves constant physical labour. It's just the opposite in the city. Even personal cars here are mainly pickups and vans necessary for a farm.
Old Kakopetria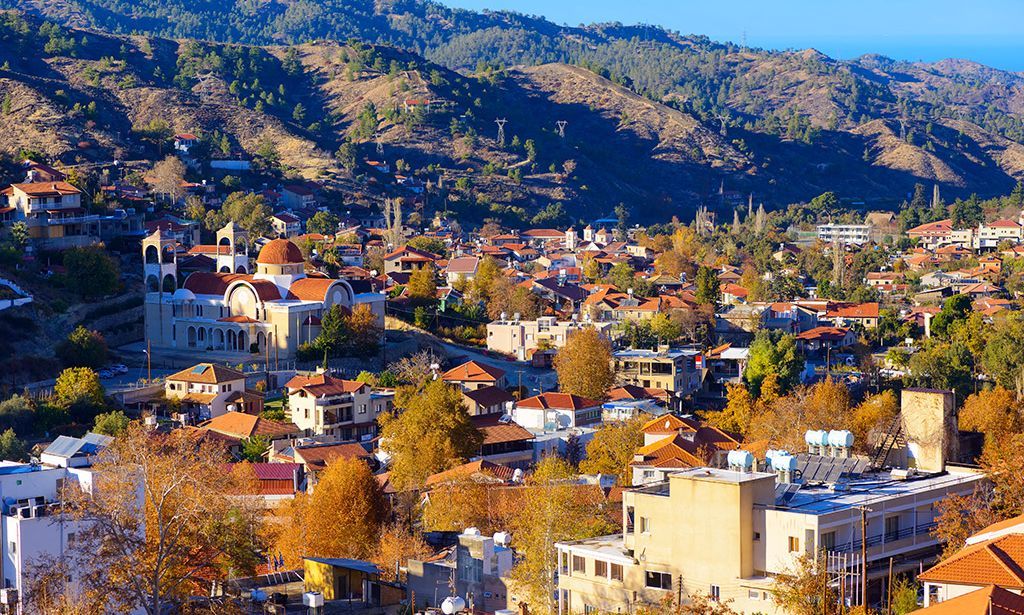 Solea region certainly lives less luxuriously than resort coastal towns. It looks plainer and poorer. This description applies both to picturesque old villages and to towns. However, there are sites – apart from the renowned National Park and a couple of mountain resorts – popular among tourists. For instance, Kakopetria, one of the largest villages in the region, situated in the northern foothills of the Troodos, between two mountain rivers.
The climate extremely comfortable for Cyprus (it's quite cool and humid here even in July) lures the island dwellers tired of the arid summer heat, therefore there are a lot of local tourists here in summer. Before the 20th century, the road from Nicosia to the Troodos inevitably went through this village, there was no bypass yet, so a lot of travellers stayed here overnight. Thus, tourism started to develop here a long time ago despite the village's remoteness from the sea. Foreign tourists, as a rule, don't come here for long, they usually take excursions and leave.
The village is large. It's divided into two parts. One of them – Palia Kakopetria (Old Kakopetria) – is of special interest, as it has the architecture that has existed for many centuries: houses built from river rock, tile roofs, carved wooden balconies, thick window shutters, narrow streets paved with the rock from mountain rivers. The houses that look especially unusual are the ones built not only from rock or brick, but also crocks of old earthenware. And, of course, unique ancient churches keeping a magical atmosphere of the clean Orthodox belief inside itself.
The Church of St. Panteleimon reconstructed in 1994 is the major temple in the village. It holds up to 700 people and gathers the numerous believers for a festive church service on St. Panteleimon Day celebrated on 27 July. There are churches in the village that are much older and were built in the 16th century.
One of them – the Church of the Holy Transfiguration – is located in the very heart of the old village. If you are unaware of where the church is, you may easily pass by without paying any attention to it, because its appearance is very plain and inconspicuous. It literally merges with the medieval surroundings of Palia Kakopetria. A small bell tower built onto the corner of the building is the only thing that gives away the features of a holy place.
The Church of St. Nicholas of the Roof is definitely worth seeing as well. It's situated several kilometres away from the village. In the beginning, in the 11th century, it was a small basilica. Later, a vestibule with a dome was built onto the church. At the end of the 12th century, the temple was covered with a double-pitched wooden roof to protect it from bad weather and snow that is not a rare occasion in the Troodos. That's where a unique name "of the roof" comes from. The temple is decorated with ancient Byzantine frescoes and included in the UNESCO World Heritage list.
It's a typical tourist centre having a lot of souvenir shops. Antique-like clay jars, amulets, sweets, wonderful local wine, and very tasty Cypriot jam from glyko walnuts can be found here. Kakopetria is also famous for its clean water from mountain wells. By the way, it's sold in bottles all around the island. And here you can relish it for free. There are even special fountains and taps to take water.
There are a lot of hotels in Kakopetria, many of which are built in the traditional style, while some are even located in old buildings. The most famous and pricey hotel is The Mill having its distinctive colour and built through remoulding an old watermill. The hotel has a gorgeous interior in line with local customs – natural materials, pastel shades, a stone floor.
There's a restaurant with excellent cuisine in the hotel. Steaks and the speciality – trout with olive sauce and herbs – are particularly good. The fish served here are grown on farms not far from the village. Furthermore, there's a wonderful promenade lying from The Mill along the river. It's pleasant to walk there enjoying the beauty of the surroundings, the sound of water, and the freshness of mountain air.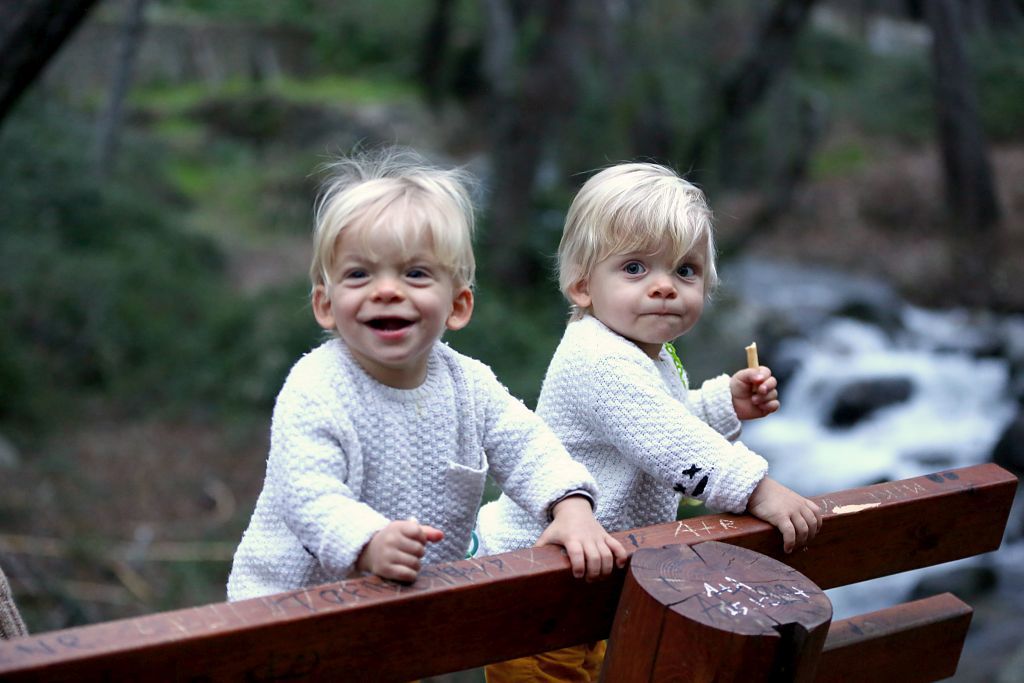 Previously, we talked about the monasteries of Cyprus, located Troodos mountains. You can read about them here: Troodos. Part 1
Mountain walks, waterfalls, winter in Troodos and family picnics – Troodos. Part 3