Cancun's environs are famous for their unparalleled nature and the number of historical sites related to, first and foremost, the mysterious Maya civilization. We'd dreamt of seeing these ancient Indian sites with our own eyes, so the instant we settled in Cancun, we decided to begin exploring the surrounding areas. Thanks to our rental car we were free to travel the peninsula at our leisure.
One of the sites on our list was an archaeological site – Tulum, and Playa del Carmen – a small tourist town located half-way, which tourists often prefer to Cancun.
Playa del Carmen: History
Playa del Carmen is a popular resort on the Caribbean coast, located in the heart of Riviera Maya. A charming and homey town with a well-developed tourist infrastructure. Pedestrian zones, beautiful plazas and cozy town squares, public beaches, abundant entertainment, the proximity to national reserves and archaeological sites make this resort an awesome vacation hotspot.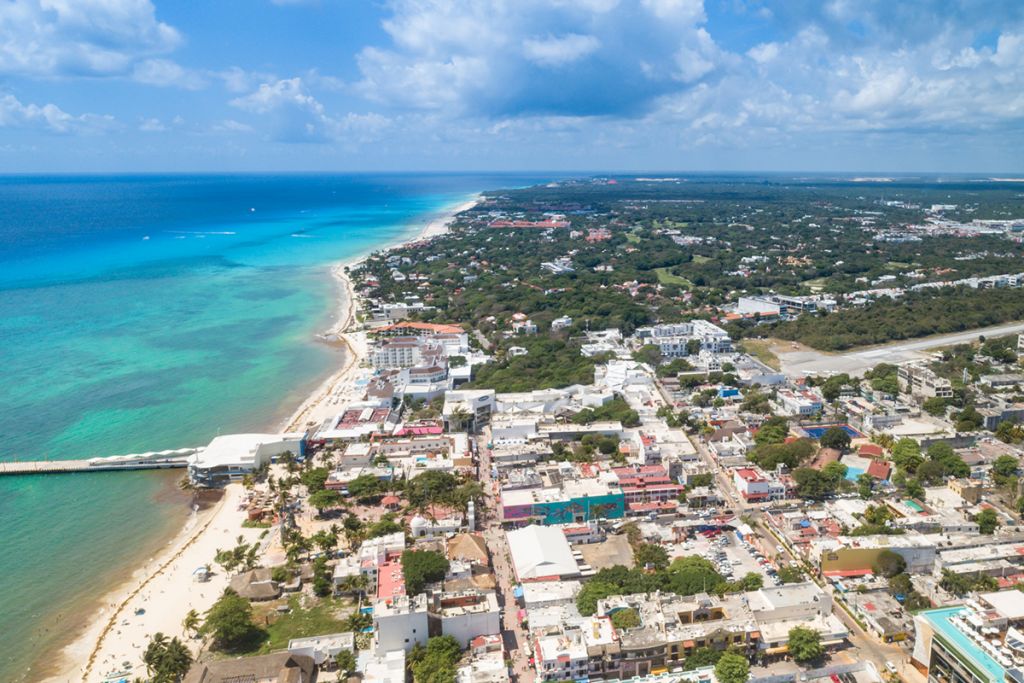 Although we spent a few days in Playa del Carmen, we decided against renting an apartment there. The drive from Cancun took less than an hour. We'd come in the mornings, visit the sites, relax at the beach, take a stroll down the evening city, have dinner, and be home by nightfall.
It's hard to imagine that this town wasn't even here 40 years ago. Back in the pre-Columbian times, it was a small settlement, where the Mayan Indians would stop on their way to their sacred island – Isla Cozumel.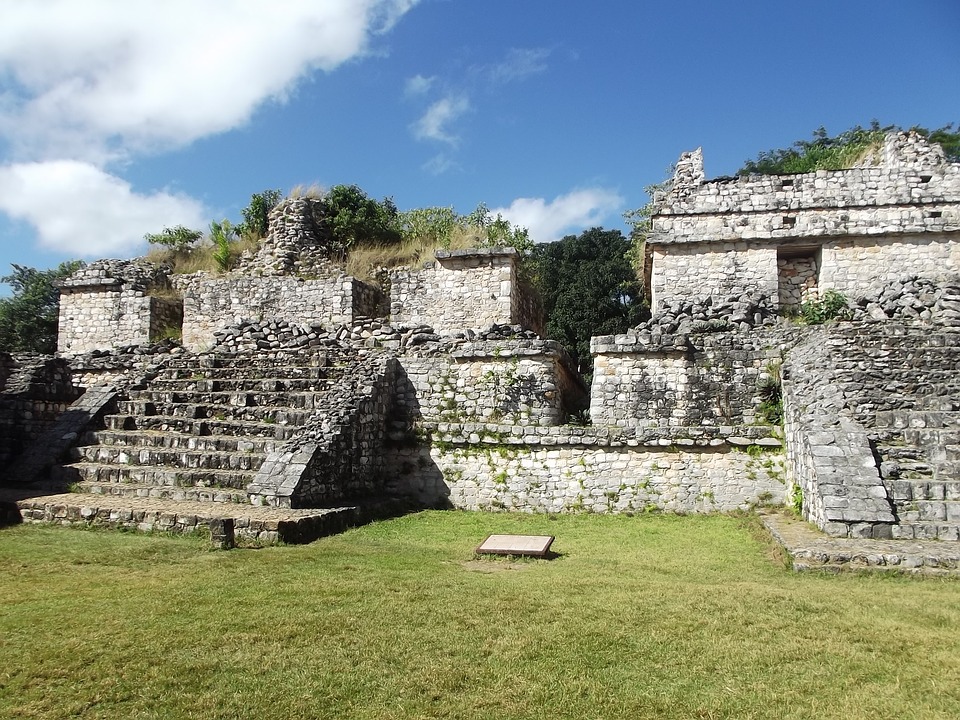 After the Mexican lands were taken over by the Conquistadors, the place was abandoned. And it wasn't until the 20th Century that people – mostly fishermen and resin cultivators – began to settle in the area. Up until the mid 80's, Playa was just a tiny village with a population of only 1,500. But once the harbor was built and the ferry service was launched between Playa del Carmen and Isla Cozumel, everything changed. Tourists flooded into the town. Today, Playa del Carmen is one of the fastest growing towns in Mexico.
Playa del Carmen Landmarks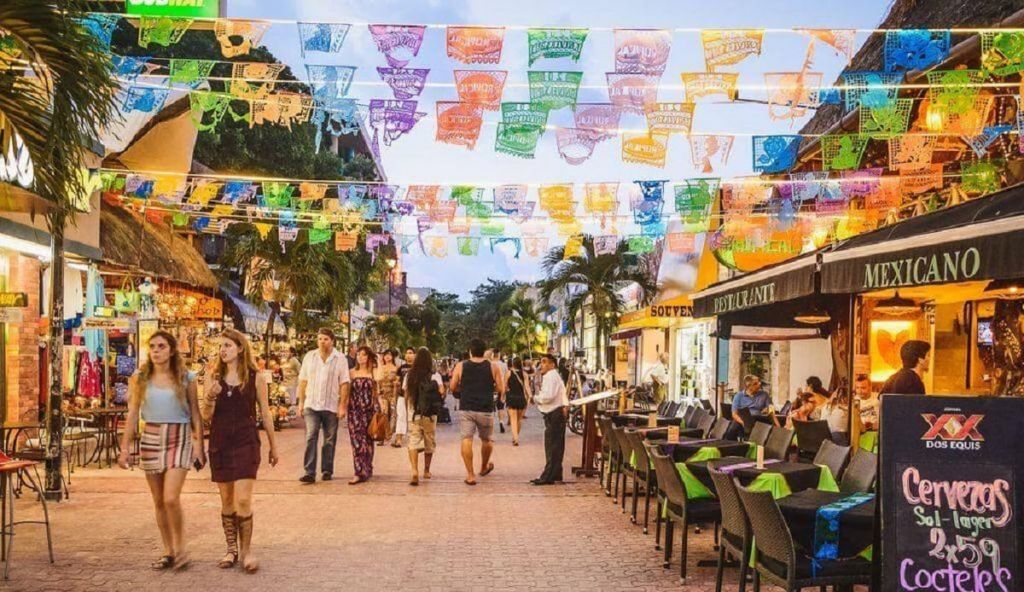 Stretching along the coastline is the town's main tourist street – Fifth Avenue. The avenue is overwhelmed with shops, cafes, restaurants, tourist centers and souvenir shops, where you can buy anything: from postcards and fridge magnets to national costumes and local alcohol. With transport prohibited on this pedestrian street, it was very convenient to walk along it with the kids.
Another popular site among tourists is Plaza Mayor near the harbor. The plaza is surrounded by countless cafes and adorned with flowerbeds and small squares, where you can hide from the sun in the shadows of palm trees.  If you're headed to the beach, you will be greeted by unusual gates – Portal Maya. The monument was erected in 2012 to commemorate the Doomsday, which was predicted by the Mayan calendar but never happened.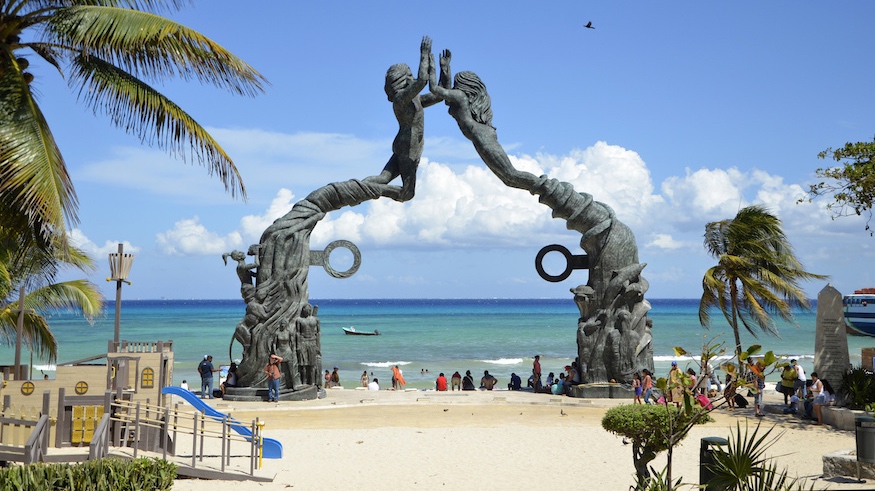 In fact, this is where you can often spot the famous volador dancers performing their magic and dangerous dance – La Danza de los Voladores. American Indian descendants climb a pillar – a few dozen meters high – and begin to jump and spin around it, holding on only to a rope, with no other safety!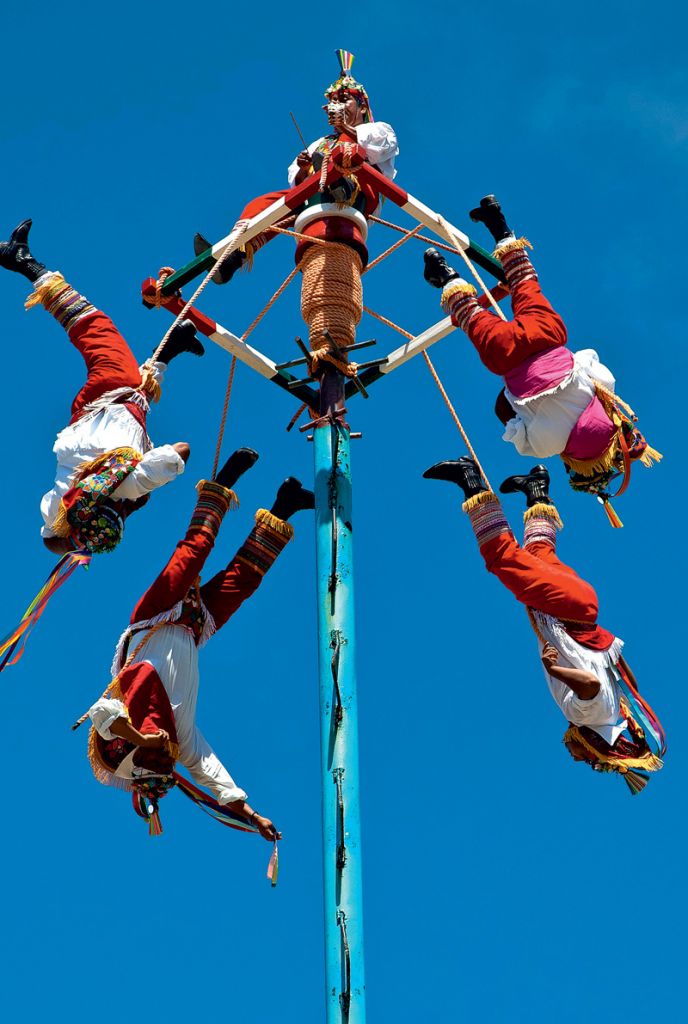 A long time ago, Danza de los Volodores was used to appease Xipe Totec – the god of fertility, but now the dance is just a tourist attraction.
Military Tech Expo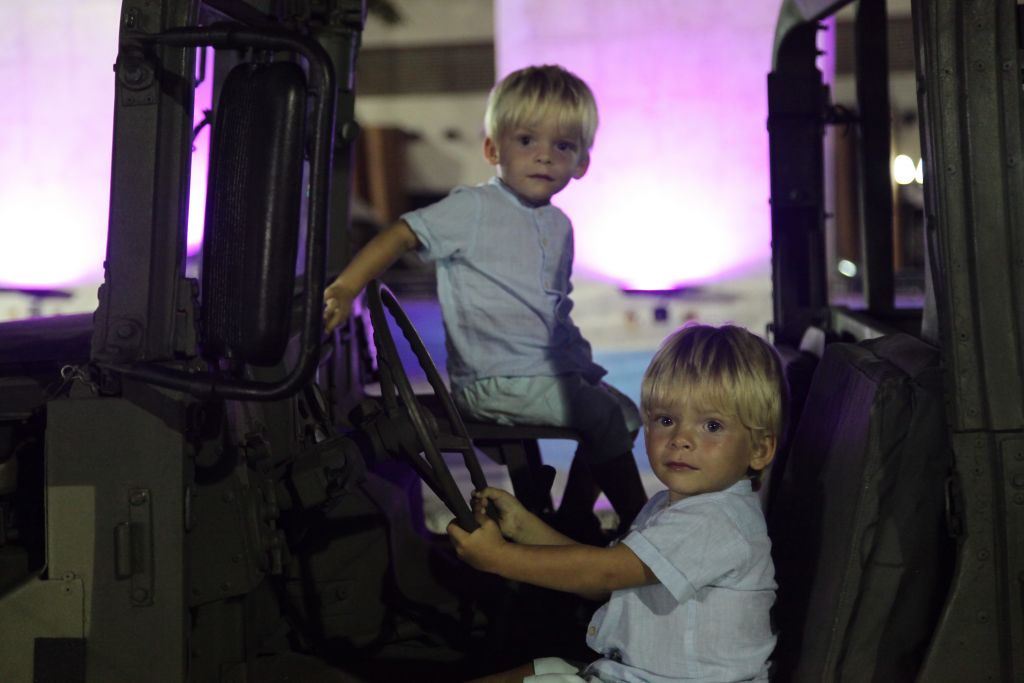 The spacious square Andador Solidaridad in the city center was turned into a military theme park.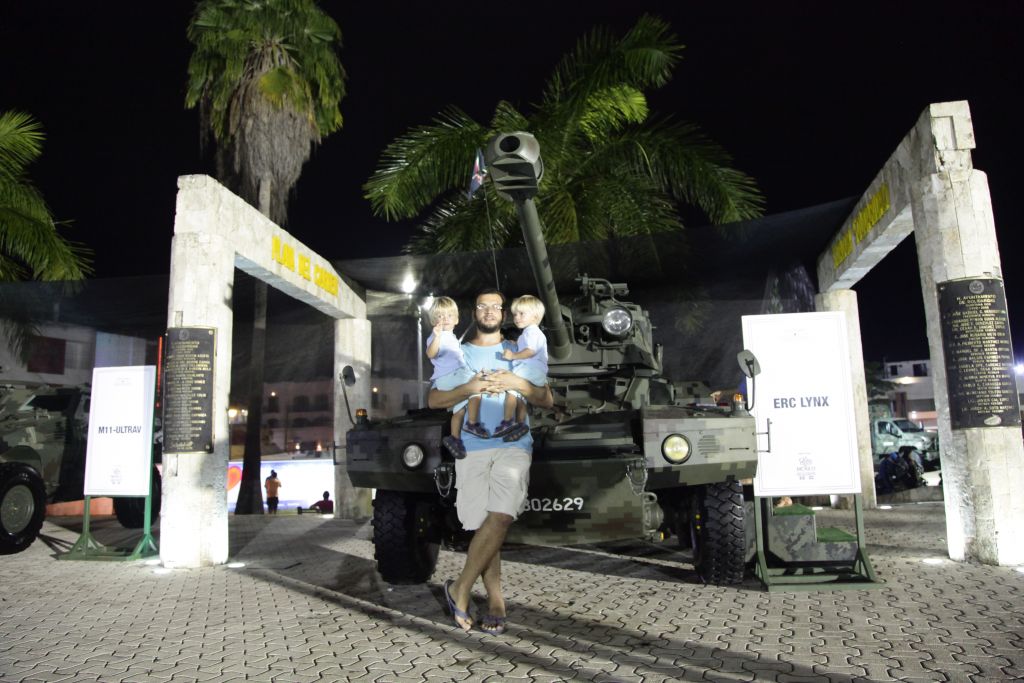 A large number of exhibits were displayed in the plaza, including various types of transport: Motor bikes, trucks, jeeps, armored personnel carriers, military helicopters and destroyers.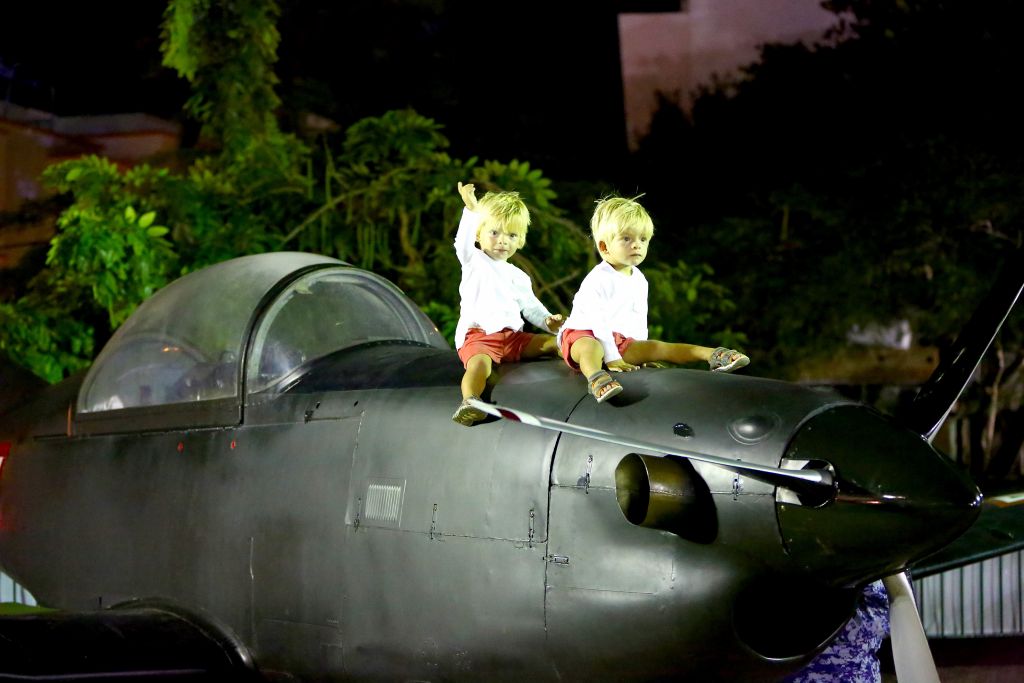 The free exposition was organized for, first and foremost, children. The young visitors were free to access and play with all the available technology.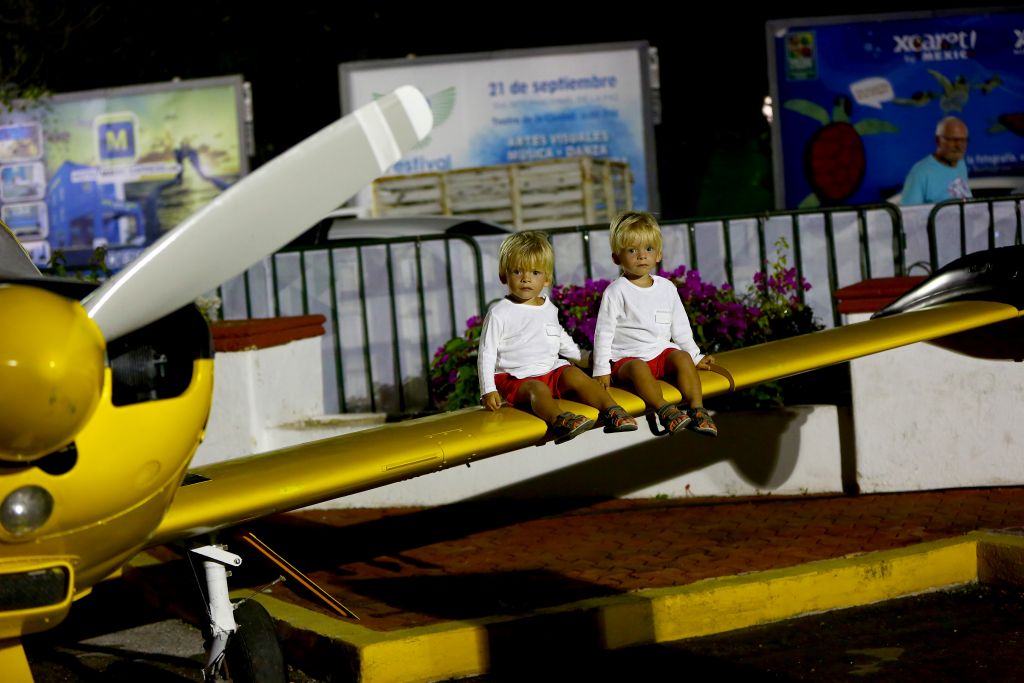 Our boys were overjoyed to climb into the helicopters and trucks, pull levers, press buttons, and see how things work.
The educational expositions were just as exciting. For example, one of them demonstrated in detail how a military kitchen is set up and functions in the field.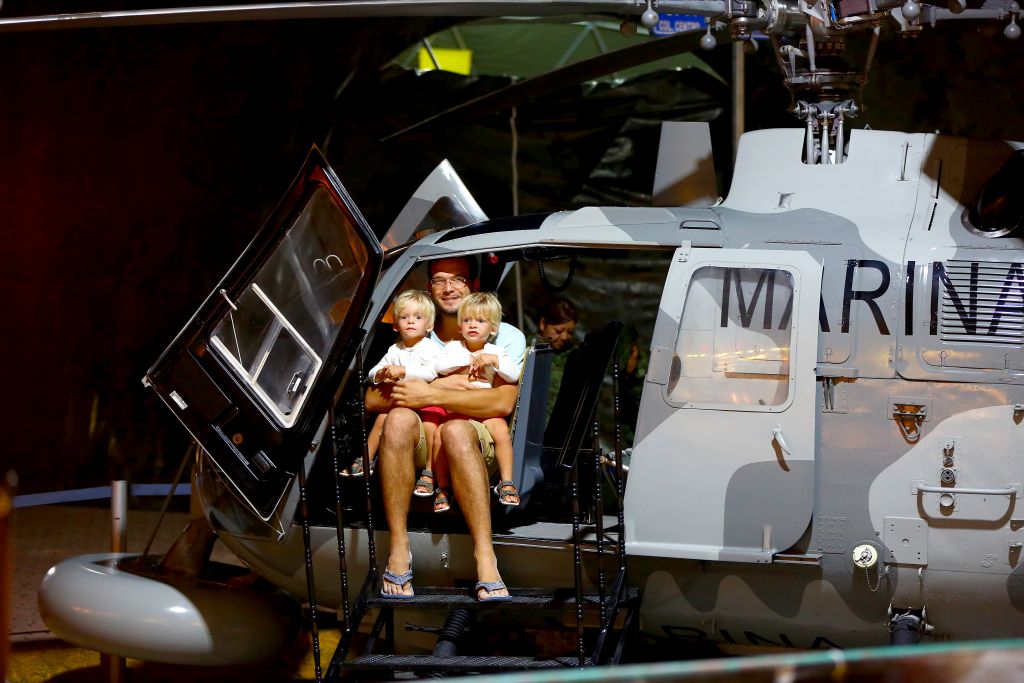 We enjoyed it so much that we visited the exposition twice. It was a little unfortunate that the boys were still too young to understand all the wonders of what was going on. Nevertheless, Michael Jr and Robert relished as they gleefully studied the machinery, which was so new to them.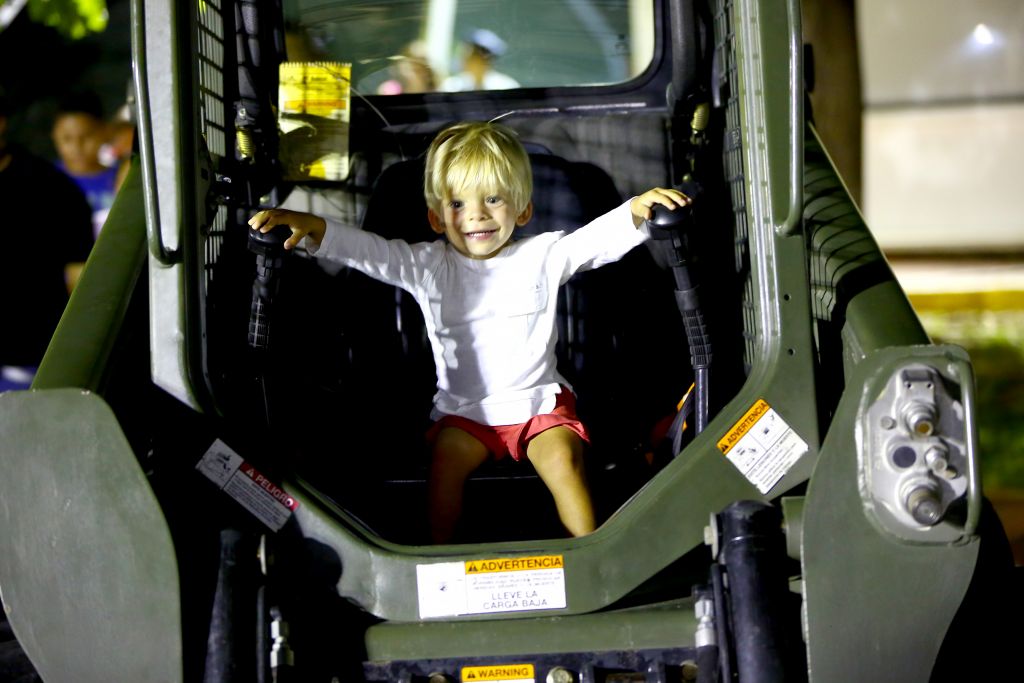 The expo was temporary. But the square is busy all day, every day. In the evenings, there are kiosks with street food, locals selling all kinds of trinkets, and street musicians performing all around.
Playa del Carmen Beaches
Playa del Carmen lies along the coastline, so local beaches stretch for miles and miles. The Maya Portal leads the way to the town's main beach – Playa Principal, which is always lively and crowded with tourists.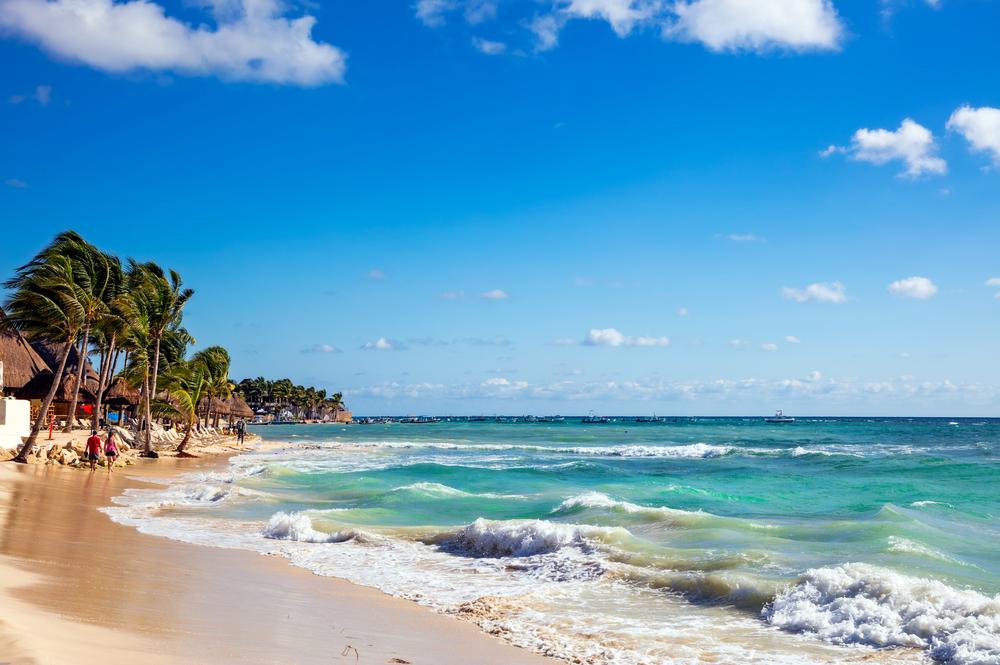 North of the town center, the coastline becomes narrower and rockier with every mile. But the beaches down south are marvelous – wide, clean, with white sand.
We found a few wonderful wild beaches just outside the city. You can park your car for a small price and spend the entire day at the beach. Unlike more touristy places, the coast here lacks infrastructure: no cafes, no showers, no toilets. But the peace and quiet was worth the price, since there were barely any people around!
When it comes to beaches, Playa del Carmen yields to Cancun. Isla Cozumel protects the coastline from currents and winds, meaning the waves here are small. But this also means that the water is not as clean, there are plenty of seaweeds. It lacks the marvelous azure color that the Caribbean Sea is famous for.
Night light and street musicians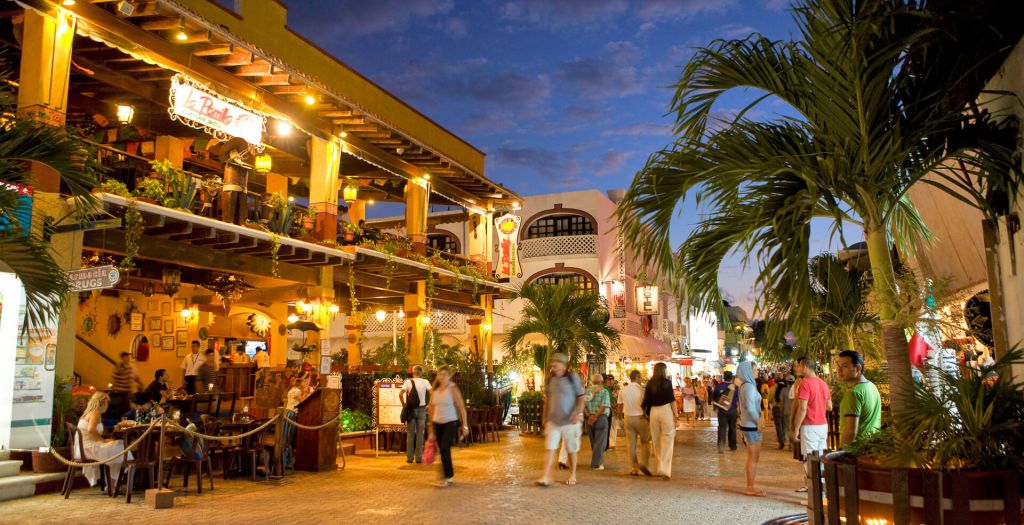 There may have been hardly anything to do in Cancun after dark, but life in Playa del Carmen begins after sunset. Brightly illuminated in the evenings, Fifth Avenue is crowded with tourists and locals – the buzz and fun never ends.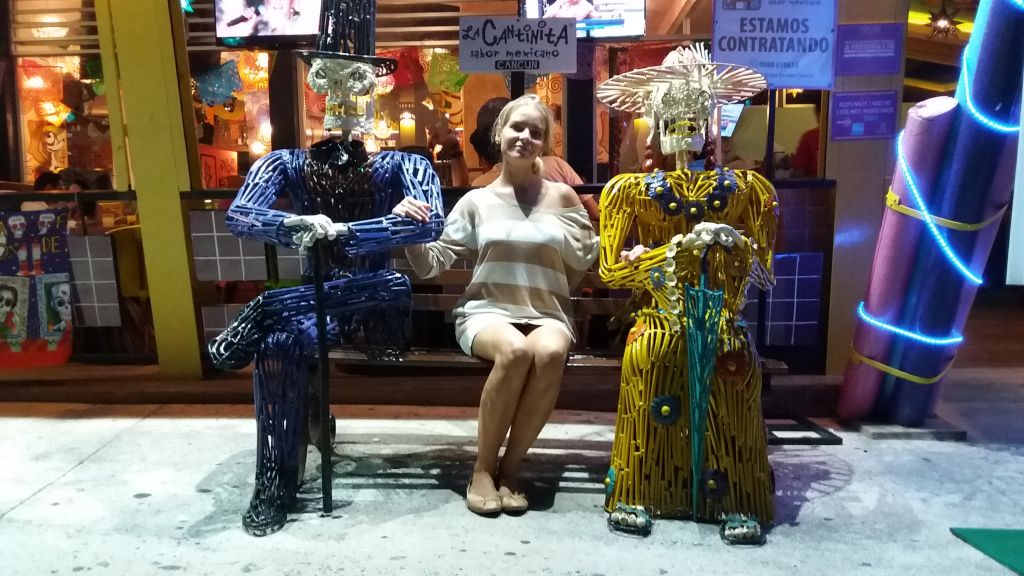 There many funny skeletons installations in the streets.
Souvenir shops stay open as late as possible, and Mexican sellers actively bargain with customers, inviting them inside. Music echoing from all around, acrobats and street performers organizing shows, and local singing bands performing in almost every cafe.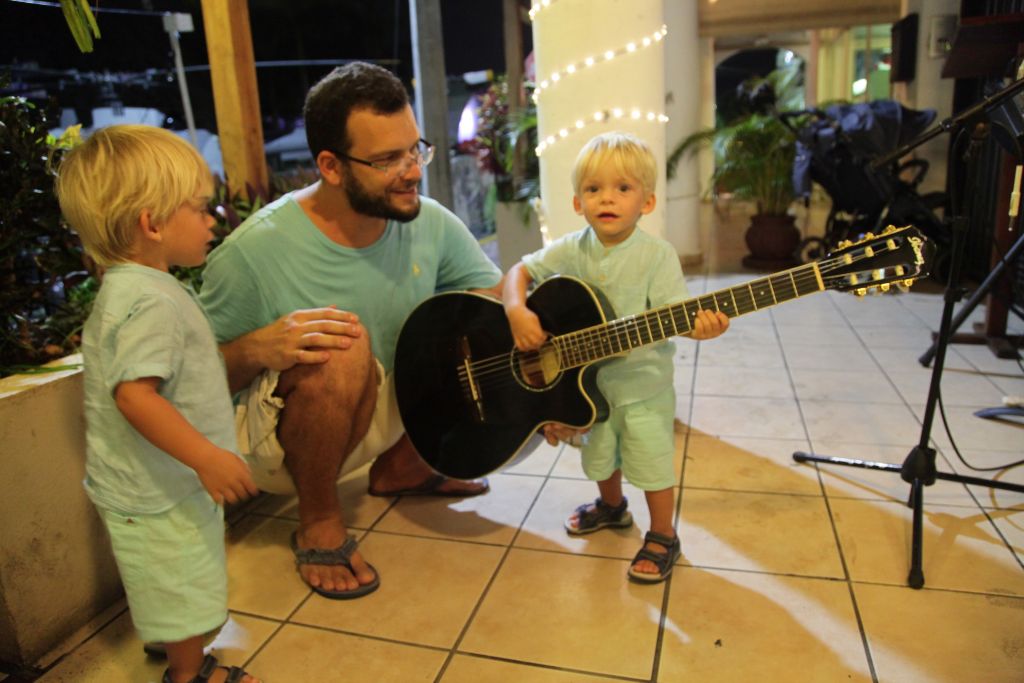 Michael Jr. and Robert – the biggest music fans out there – had the time of their lives.
By the way, prices in Playa del Carmen are far more democratic than in Cancun's tourist area. For example, $10-20 at a cafe or restaurant could ensure us a delicious meal and a great time.