Paralimni, Ayia Napa, and Protaras… Three villages in the south-east of Cyprus popular among tourists. It's a real paradise of the wonderful island, where there are magnificent beaches with soft golden sand, a lot of places for walks, and great restaurants with decent cuisine everywhere. We used to visit the area quite often, so we managed to explore it well.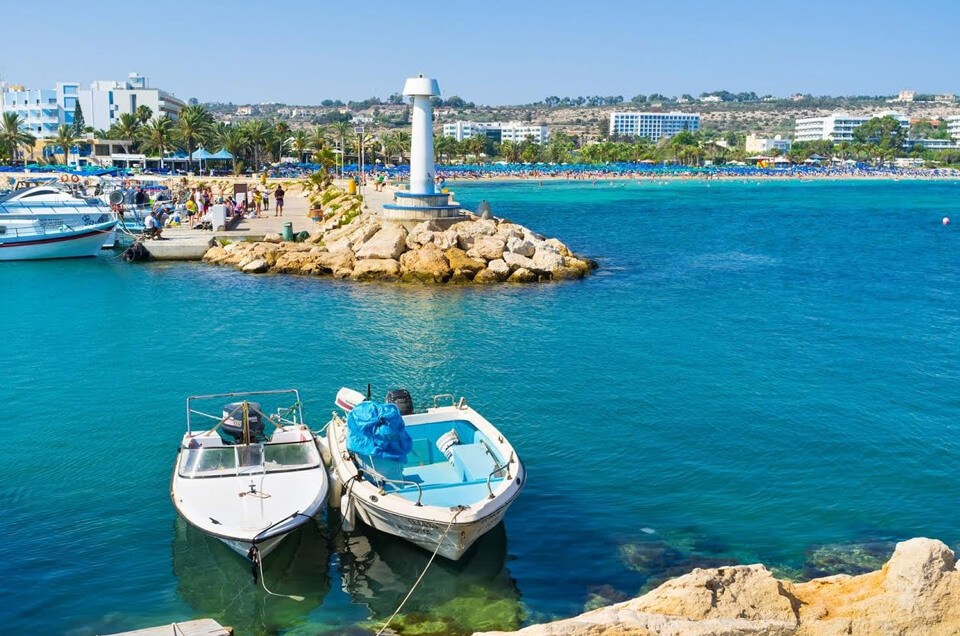 Ayia Napa and its surroundings is a region where tourism is the main industry. You distinctly feel the seasonality of life here. In summer, the streets of the settlements are literally flooded with people from all over the world. There's hustle and bustle from morning till night. All possible languages can be heard here. The restaurants are overcrowded, and there are a great number of tourists relaxing on the beaches from morning till late evening.
In October, life starts to die down here. The arrival of winter immerses the region in the peaceful quiet and tranquillity. Hundreds of restaurants close down for winter holidays. Only a couple of them remain open. The area is deserted, and there's hardly anyone out on the streets. It's very convenient to walk with kids around Ayia Napa in winter, as babies sleep calmly in the pram breathing in the fresh sea air, while no loud noises disturb their peaceful sleep.
Transportation
Ayia Napa, Protaras, and Paralimni are connected through busy road traffic. It's easy to move from one village to another by bus. The buses have a convenient schedule and constantly circle through these regions. However, many people don't want to depend on bus schedules, so, when they come here, they rent cars, buggies, or quadracycles to plan their trips around the area by themselves. As for scooters, they are not popular here and considered very dangerous in Cyprus.
The Church with a Beach
The first remarkable landmark that you come across on the way from Larnaca to Ayia Napa is a small picturesque Ayia Thekla Chapel. The snow-white church with an azure roof and doors of the same colour look incredibly beautiful on the background of the marine blue.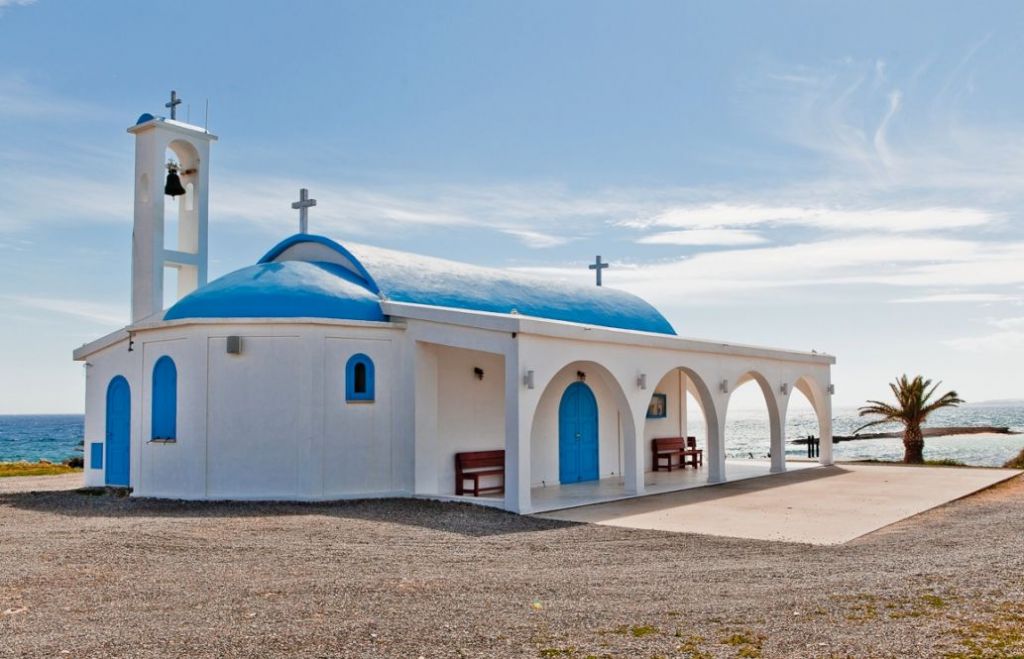 The church is named after Saint Thekla the Protomartyr, a beautiful girl that lived at the beginning of the common era who abandoned all secular matters and dedicated her life to the teachings of God. She was persecuted. People tried to exterminate and execute her, however, when they attempted to burn here, the flames didn't touch her, and the heavy rain that suddenly broke out extinguished the fire completely. She was once thrown to wild animals that were supposed to eat her, but instead, they lay beside her feet and nuzzled at her like kittens.
The saint's relics are kept in the namesake monastery situated in Cyprus, not far from Larnaca. And here, in Ayia Napa, a chapel was built to commemorate her. Both locals and tourists came to the chapel to pray to St Thekla, ask her for mercy and help. In the middle of the 20th century, St Thekla Church was erected near the small chapel.
The beach beside the church – that is, by the way, called St Thekla Beach – is located in a small bay. Everything is well arranged here. You can find all necessary facilities for comfortable rest with your friends and family, including little kids.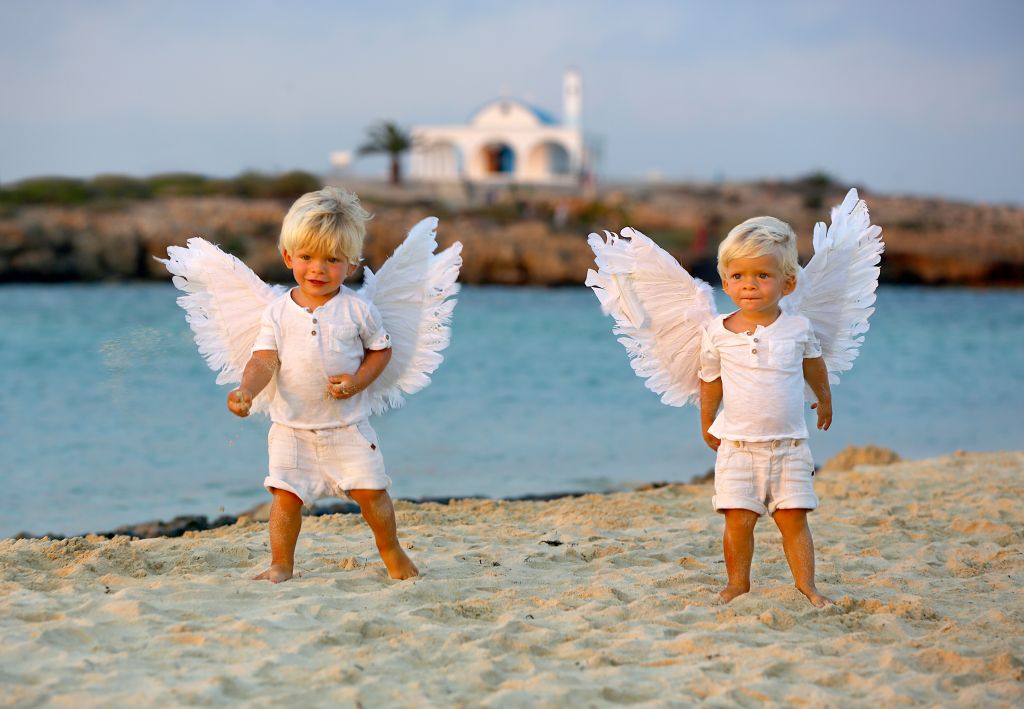 The shore is sandy, while the sea bed has pebbly areas, which, however, doesn't make you feel uncomfortable. There's also a small island in the sea close to the shore, which you can reach by wading. Children just love the place! It's a real island that you can easily walk or swim to, while splashing and splattering water at one another cheerfully.
Beaches and Walks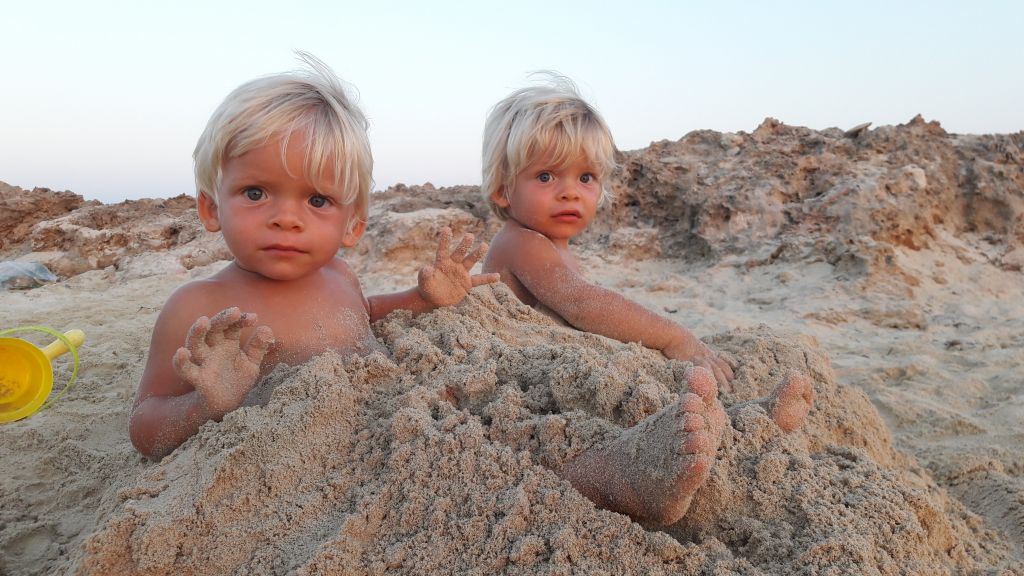 The south coast of Cyprus, especially the Ayia Napa area, seems to be created for enjoying the sea. As well as sunbathing, swimming, relishing stunningly beautiful sceneries. There are paradise places full of serenity and cosiness all over the area. One of them is Konnos Bay, a picturesque bay with a beach.
Swimming in the sea is one of the favorite entertainments of Michael Jr. and Robert from a very young age
Such things as a coast covered in soft fine sand and surrounded by rocks and pine trees, the seawater that is always incredibly clean attract tourists, many of which call the place their favourite beach in the region. The water is shallow, so it's convenient to bathe together with little kids here. Active swimmers, however, have to walk quite long through the water to reach the area deep enough for free swimming.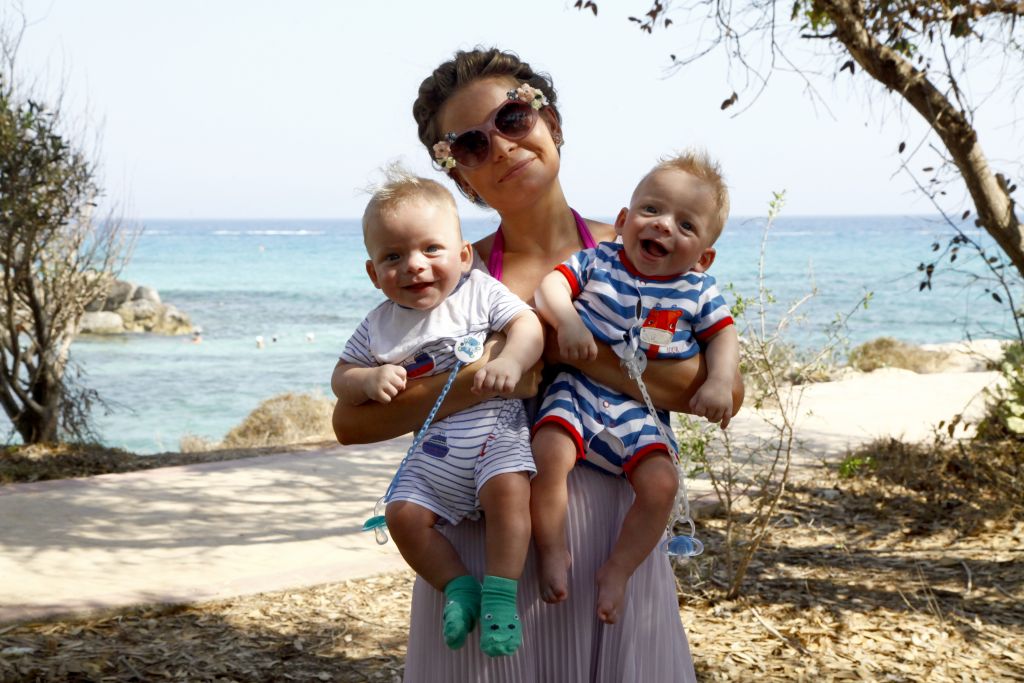 Those who are bored with swimming and sunbathing can stroll along the pavement near the beach. It's remarkable because trees and bushes here are accompanied with signs showing names and descriptions of the plants. It's a great way to walk peacefully and learn more about the local flora. Unfortunately, it's simply impossible to walk here with a pram, as the path is very rough, there are stones everywhere, and you often have to go up and down the stone stairs.
Konnos Bay is a kind of a border that separates Ayia Napa from Paralimni and Protaras. The villages are small but very popular among the locals. There are a lot of trees and grass, and it's cooler here, so Cypriots hide here (as well as in Troodos) from crazy city heat that smothers Cyprus in July and August.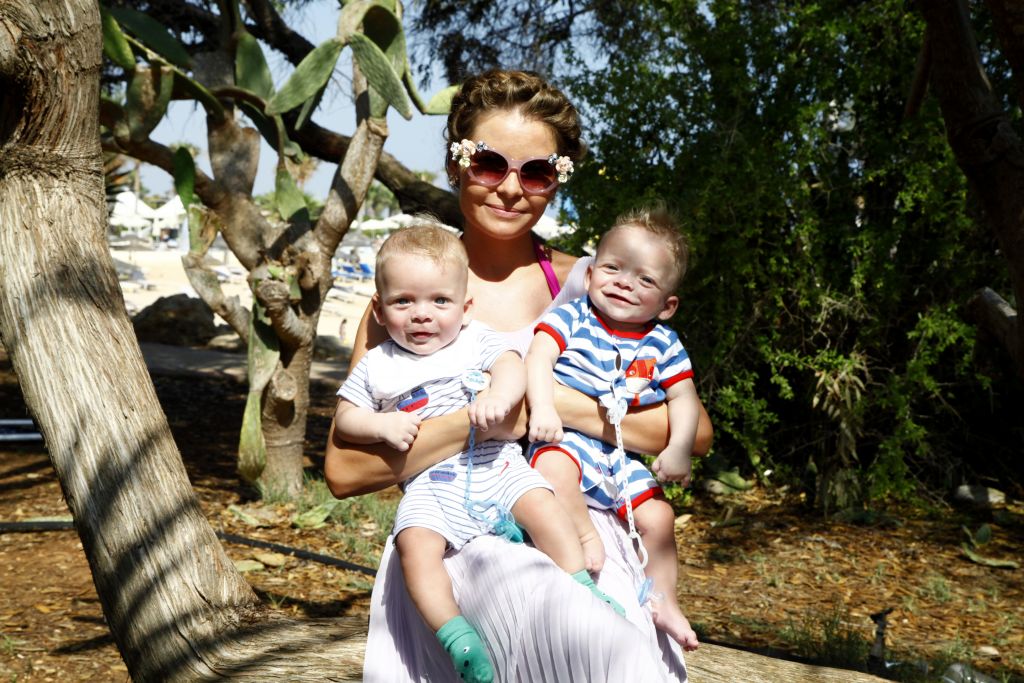 Protaras has a wonderful promenade along the beaches. It's a very long pedestrian walkway that lies in the distance from restaurants and other resort hustle. It's very nice and peaceful here. It's a pleasure to walk here anytime during the year.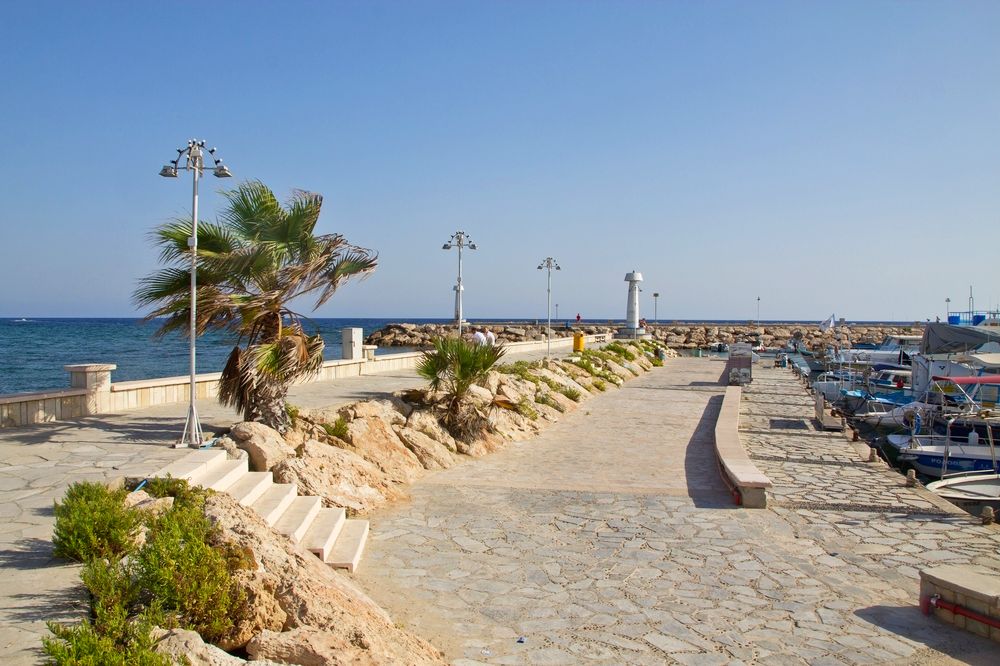 Tourists also like spending their time in the villages, so in summer it's noisy, and the place is humming till late night just like the rest of the region, while in winter it's deserted and quiet here regardless of the time of the day.
Playground on the Protaras promenade – a lot of kids, fun and good mood
Cave Chapel of 40 Saints
There's a unique church in Protaras that is situated in the mountain cave – Agiogi Saranta, a chapel in honour of forty Saints. It was built to commemorate forty warriors that accepted a painful death for the sake of belief. They were made to abdicate Jesus Christ and were tortured during several days, and they just endured the torments and prayed…
Agiogi Saranta Church is considered one of the most unusual churches in the world. It's almost totally hidden in the rock and can be spotted from afar only by its dome built on top of it.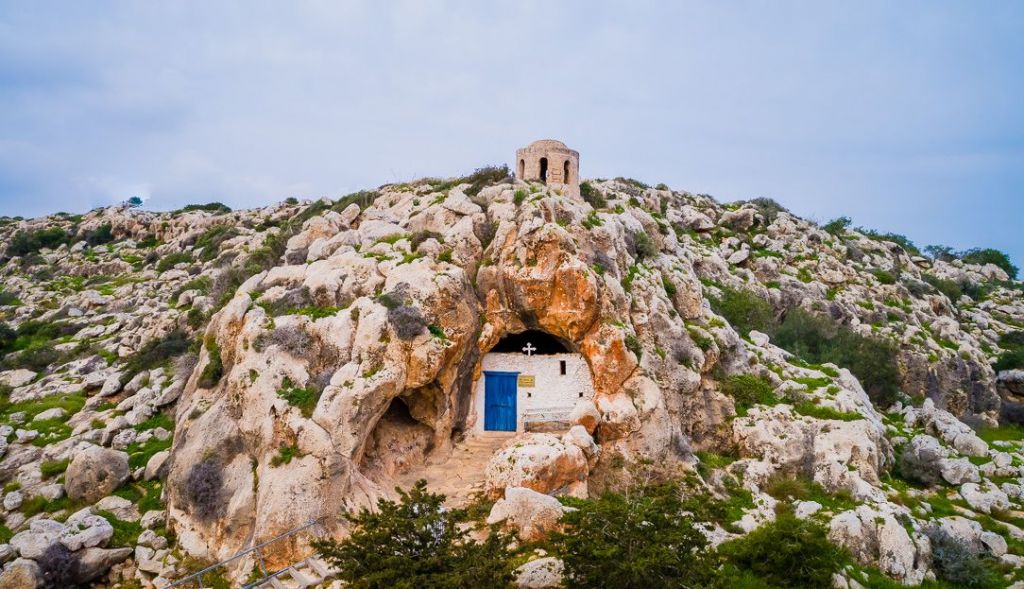 It's humble and ascetic. You won't find any posh decorations here. Only icons hung on the cave walls or put on the shelves and several wooden chairs. There's no artificial lighting. The windows cut out in the rock serve as a source of light. Many people tend to call the place a real Power Place. Because once you open a small blue door and enter the chapel, you get filled with an incredible feeling of calm, quiet, and reverence. Even irreligious people mention it.
Promenades, the bridge of love and our favorite fish tavern – Ayia-Napa. Part 2
Club quarter, elite restaurants and an old monastery – Ayia-Napa. Part 3