It was a year since our boys had been born. Christmas was coming. We yearned to get out of Cyprus and finally visit a new country. And surely we wanted to have a jolly unforgettable Christmas. We wanted to make it special. Christmas decorations are all around the cities and countries during the time, and Cyprus is not an exception, but it's decorated far less luxuriously than Central European countries.
We thought everything over and settled on Vienna, the capital of Austria, as our Xmas destination. It was to be our first journey together. The city is known for its fabulous Christmas atmosphere – there are decorations, lights, garlands, fir trees everywhere. It oozes magic winter holiday vibes. Various fairs, festivals, and celebrations are held there.
There was one more reason to choose Austria – we wanted our babies to find themselves in a winter fairy tale, in a country where they can see snow for the first time and where they could play, throw snowballs, and make a snowman… Unfortunately, however, we were lucky to see the snow only a couple of times. It was there when we arrived, but it was gone by the following morning. The next time we could enjoy snowy Vienna was only on our last day there. And then we found out that Christmas snow is actually a very rare thing in Vienna.
Preparations and First Flight
Our preparations started off with the search for a flat that would be conveniently located and have the necessary number of rooms and furniture. One of the main criteria was a bath in the flat, as Michael Jr and Robert adored bathing. Besides, it was clear that we were going to a cold country, and the boys could warm up taking a warm bath after long walks around the winter city every evening.
The babies were going to go so far for the first time. It was a country with a completely different climate – the temperature didn't exceed 0…+2°C on the warmest December days, while in Cyprus it's always +12 or even +15°C in winter. Thus, the flat that we were going to live in had to be very warm and well heated.
We mapped our trip out with TripAdvisor. We looked through all the landmarks in Vienna, read about them, chose those that we would certainly like to visit, and marked them as our desired destinations. It's very convenient to plan your trip on TripAdvisor – you just highlight the places you want to visit and they are shown on the map all together then. You can easily schedule visiting 3-5 or more places situated close to one another, in one area, within a day.
Same with restaurants. You can read reviews and again mark the places on the map which are worth visiting according to other travellers and where you can have a delicious meal with children.
Having planned our trip around Vienna, we also managed to find a place we could stay. We chose a flat in the quiet residential district. It wasn't a concern for us to reach the city centre, as there was a tram stop near the house. It took just 15 minutes to get to the centre of Vienna.
Before going, we found a babysitter who would help us while we were staying in Austria. It's easy to do that through Facebook groups where people are looking for jobs in different cities. By that time, we already had a permanent babysitter in Cyprus, so we were used to having a third person beside us who was a great help, because the kids were still little and needed to be constantly looked after – we should regularly feed them, change clothes, entertain, and have walks with them.
Michael Jr and Robert turned 1 y.o.! We had so much fun that day! There were lots of balloons, gifts, sweets, and joys!
Furthermore, they often woke up at night and we needed to lull them. If we had tried to take care of the boys ourselves during our trip, we simply would have been too exhausted to walk and explore new places. We were going to spend limited time there (just 10 days), so we couldn't afford that.
Fortunately, the girl that we hired to assist us with the children got on well with them right away. Sometimes, the boys needed time to get used to a person, and sometimes, they wouldn't want to interact with a person at all. But we were lucky this time. They started to communicate and play with her happily right from the start, thanks to which Helen and I were even able to go for short daytime walks. However, most of the time, the babysitter came in the evening and left in the morning, rather than in the afternoon, so we were free from all the night concerns about the babies.
We were surely worried that the new experience could frighten our boys and they would grizzle as many kids do. It was their first flight after all, and it was hard to predict how they would react to the plane and being inside of it. However, we needn't have worried that much. The boys played quietly, chatted with us and other passengers, and generally had a wonderful mood during the whole flight.
The first day in Vienna. The boys are playing happily anticipating pleasant walks and new impressions
Transport and Vienna Pedestrians
Vienna is considered to be one of the most comfortable cities to live in. When we arrived there, we were amazed at how convenient both pedestrian and transport infrastructure is there. Vienna is totally different from the Cypriot cities in that regard. Everything is made with pedestrians in mind. You can walk everywhere freely. There are large pedestrian zones. It's even convenient to walk with a pram around the city – the pavements are broad and have ramps. The public transport has low steps, so it's no problem to enter the tram and exit it. We know that it's no big deal for most large European cities, but we definitely spotted the difference after spending so much time in Cyprus where pedestrians sometimes literally have to press against the walls of houses.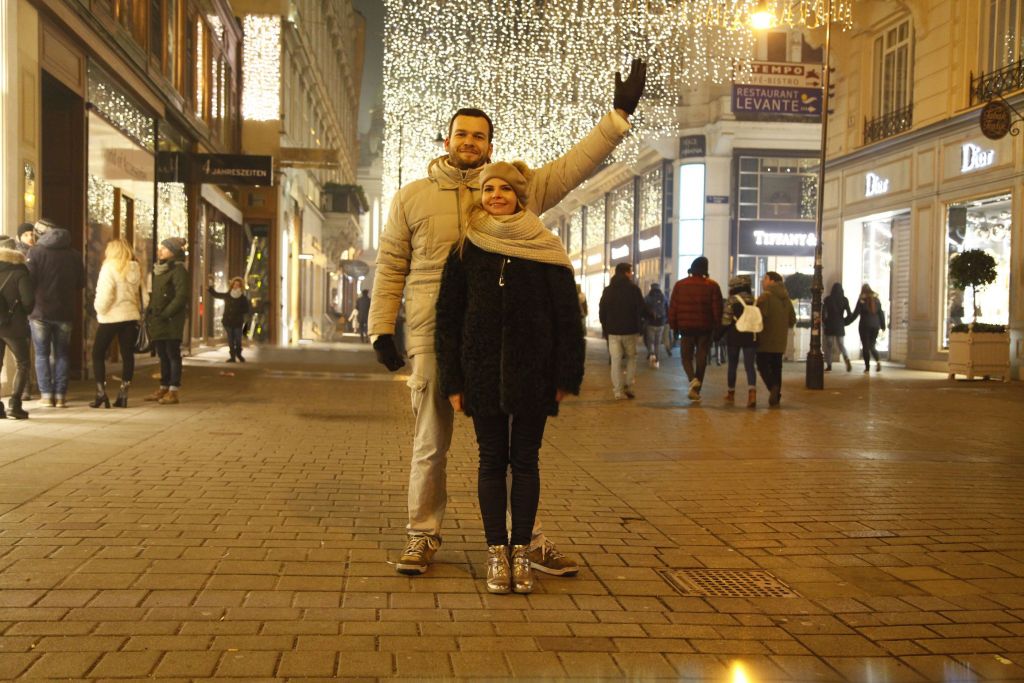 It's interesting how trams circulate around the city. The old and new ones circulate in turns – an old tram is followed by the modern comfortable low-floor tram. For example, it's almost impossible to get into the old tram with a pram, especially a double one, as the stairs are too high and divided with a grab handle in the middle of them. We'd never had to wait for the necessary tram long. First, the public transport circulates strictly according to the timetable, without any delays, and second, there are real-time electronic boards at the stops that show which tram comes next and when the necessary one arrives.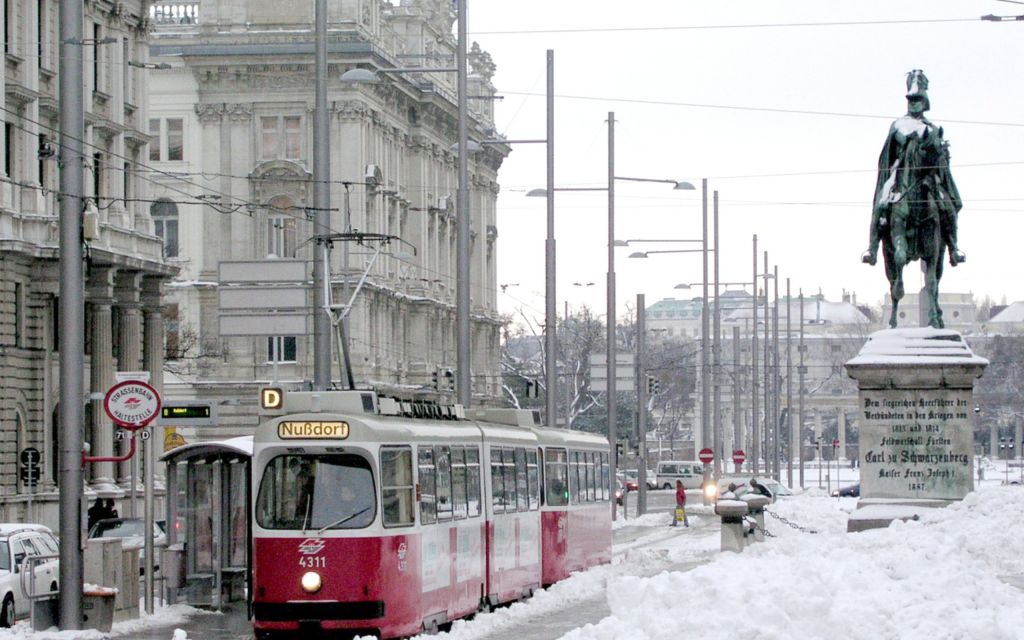 The information must also be available online, as we noticed several times that the citizens left their houses and came to the stop literally a minute before the necessary one came.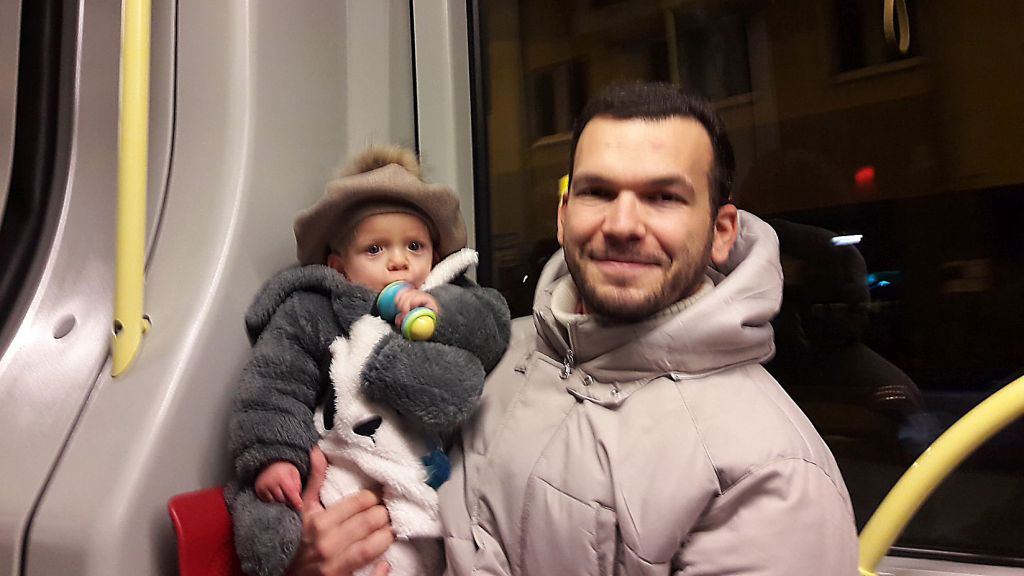 Magic Christmas Spirit with a Flavour of Sausages and Mulled Wine
Vienna attracts crowds of tourists during Christmas holidays. People come from all over the world to take part in grand celebrations, Christmas fairs, balls, and masquerades or simply walk around the incredibly beautiful sophisticated city with rich history.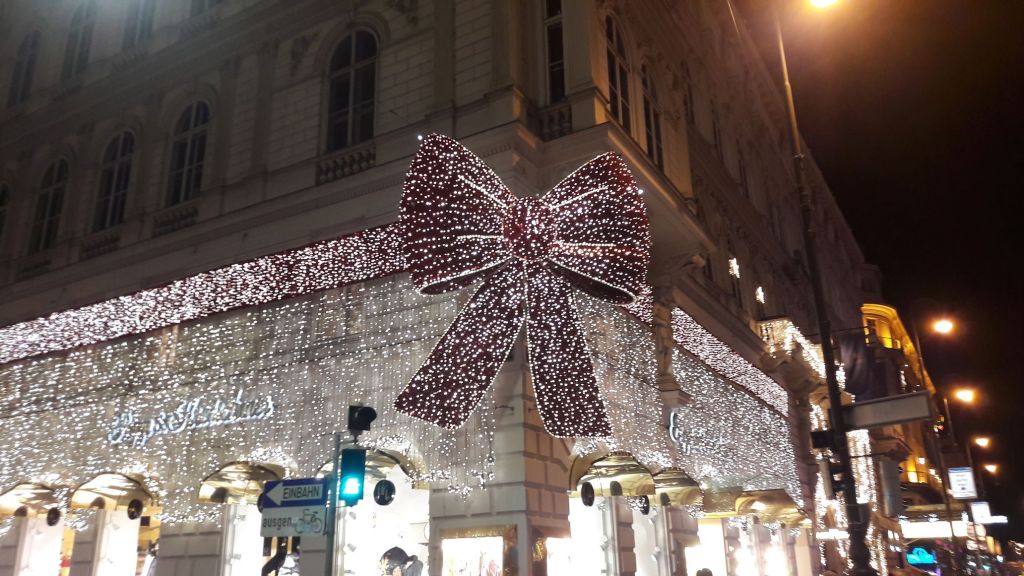 As expected, the city was stunningly decorated before the holidays. We arrived on 22 December when the fabulous holiday mood could be felt everywhere – thousands of shining garlands, bright decorations and installations, numerous candle lights, nicely decorated shop windows.
And, of course, the cheerful Christmas fairs that we wanted to visit so much when we were planning our journey.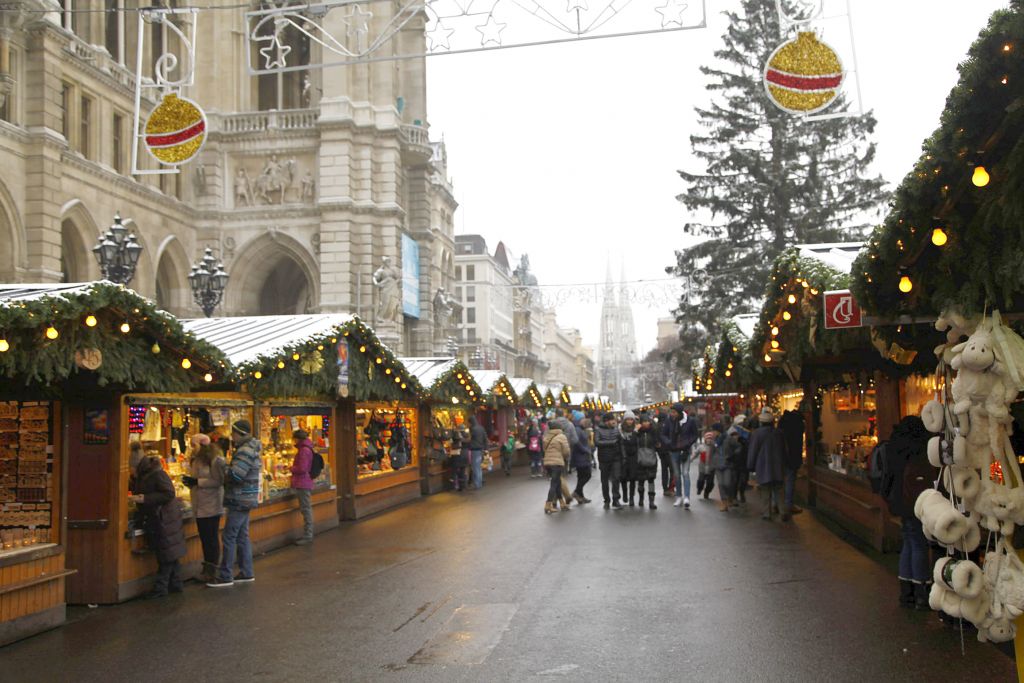 We dedicated the first few days mostly to going to the fairs. We're not the fans of buying up souvenirs, and we stuck to our habits in Vienna as well. We like other things. For example, we were interested in tasting local dishes.
All fairs have lots of mini-cafes and stalls where you can find extremely tasty sausages, soup, pastries, and, of course, alcoholic drinks such as mulled wine or punch.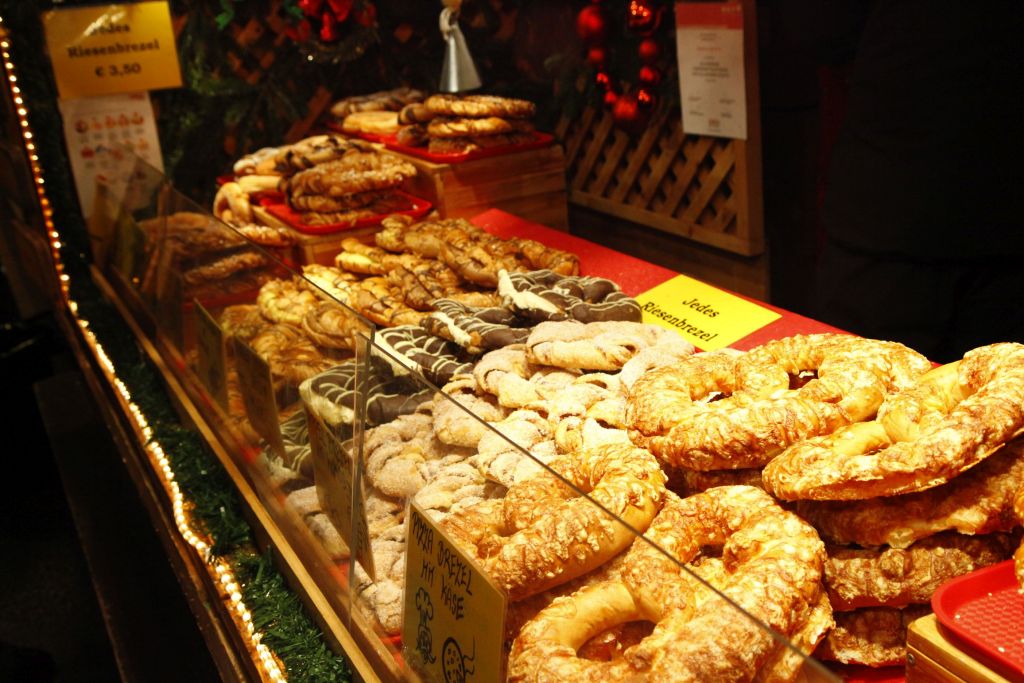 The kiosks with these delicious warming beverages were scattered everywhere, almost every 500 metres. They were poured into beautiful cups with Vienna landmarks.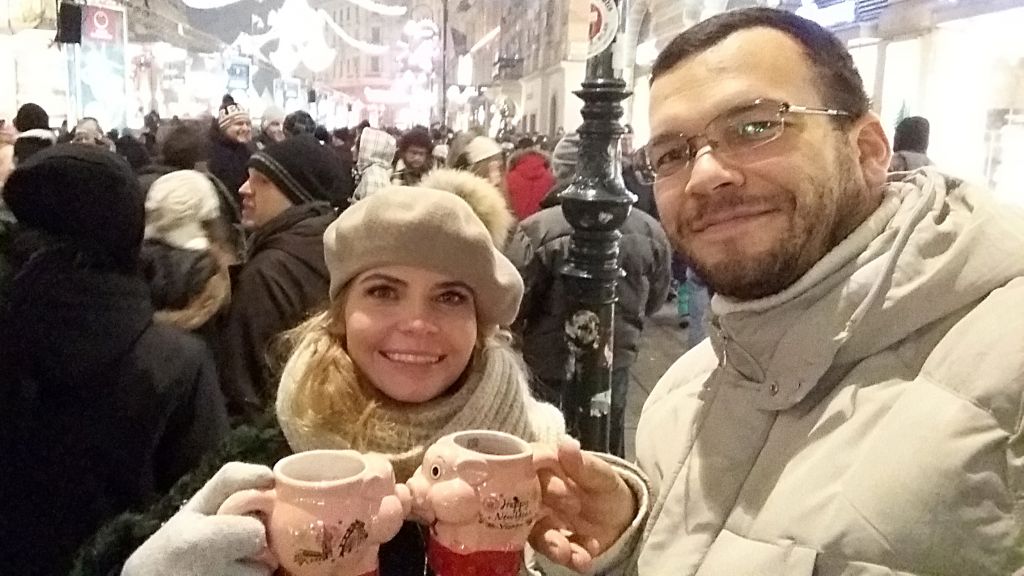 There's an additional charge for the cup that is included in the price of the drink, so that customers wouldn't be in a hurry and could sip and savour the beverage while walking around the city or the fair. If you bring the cup back after finishing the drink, that charge for the cup will be returned. If you're too lazy to come back or just want to leave the cup as another souvenir from Vienna, you can just take it.
The dainty at the fair that we liked most was soup in a bread bowl. It's a large round loaf of bread that has the soft part taken out instead of which thick soup such as a tomato, meat, potato, garlic, etc one is put. The dish is popular in Europe and comes in useful during Christmastime, when everyone walks around, and it's chilly, so people want to get warm and have a perfect opportunity to eat the hot soup straight on the street.